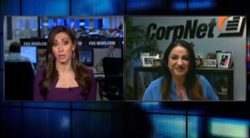 If you're getting a tax refund, this can be the perfect time to invest in yourself and start your own business.
Westlake Village, CA (PRWEB) March 14, 2014
CorpNet.com, a leading online business document filing company that helps entrepreneurs start a business and keep a business in compliance, announced that its co-founder and CEO, Nellie Akalp, was recently featured on FOX Business where she shared tips on getting a bigger tax refund.
A video of the segment can be found here: http://goo.gl/jFzo5b
Nellie's tax tips for a max refund include:
1. Turn to the tax pros: As she explained in the segment, investing a few hundred dollars by turning to a tax professional can help increase your tax refund by about a thousand dollars, as savvy tax pros will better know which deductions, tax credits, and filing status will work in your favor.
2. Rack up your expenses by including tuition-related expenses, job-hunt expenses, mortgage interest/property taxes, state income taxes, moving expenses related to a new job, healthcare costs, qualified energy efficiency upgrades, and business travel expenses.
3. Check how your filing status (married filing jointly, married filing separately) affects your overall tax bill and use the status that works to your advantage.
4. Think about extra contributions to a regular or Roth IRA, as you have until April 15, 2014 to make any contributions (within your allowable limit) and have them apply to your 2013 return.
5. Add up charitable contributions, remembering to include any donations made via text message and even travel costs when volunteering for a qualified organization.
6. Don't forget valuable tax credits like the Earned Income Tax Credit, Lifetime Learning Credit, and American Opportunity Tax Credit.
"If you're getting a tax refund, this can be the perfect time to invest in yourself and start your own business," said Akalp. "Sometimes all you need is a modest amount of capital to get a business off the ground and allow your dreams to take flight."
Through CorpNet, Nellie and her husband Philip Akalp have empowered thousands of entrepreneurs to start their own business. As an online legal document filing service, CorpNet helps small business owners form an LLC or incorporate a business in order to start and protect their new business ventures the right way.
CorpNet.com is known for its customer-centric philosophy, developing a range of free, value-add tools to help small business owners thrive in today's economy. CorpNet customers rave about the company's friendly, helpful service, including five-star CorpNet reviews on Trustlink.
CorpNet.com is an online business document filing service that provides new and existing business owners with the most comprehensive, cost-effective services when it comes to starting, protecting, and managing a business. Through its website, CorpNet.com provides business filing services required for a variety of business needs such as: incorporate online or form an LLC, file a DBA, Doing Business in Multiple States (Foreign Qualifications), close a business (Dissolutions), Registered Agent Representations, Trademark Search and Registrations, and Corporate Compliance services and supplies for all 50 states.
Founded by experienced entrepreneur/attorney husband and wife team, Philip and Nellie Akalp, CorpNet.com is a private company based in Westlake Village, CA. For more information, please visit http://www.corpnet.com or follow @CorpNet on Twitter.