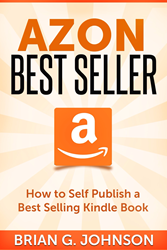 Colorado Springs, CO (PRWEB) March 18, 2014
Generating book royalties with the Amazon Kindle publishing platform just got a whole lot easier! Brian G. Johnson, the highly successful Internet marketer and eBook publisher, just announced the release of his brand new book Azon Best Seller. In a public statement, Johnson revealed that this book is based on a simple 6-step self-publishing formula that had been specifically designed to enable anyone and everyone to release bestselling Kindle books.
"With Amazon's Kindle Direct Publishing, it's never been easier to publish an eBook to the web and Azon Best Seller provides a step-by-step "success" formula that's allowed me and hundreds of previous students to publish bestsellers and leverage the Amazon opportunity. It's like partnering with the world's leading e-commerce company!"
Azon Best Seller covers critical self-publishing topics including; niche selection, how to name books that drive additional traffic, how to outsource professional book covers, getting book reviews in an honest and ethical manner, and promotional tactics that can significantly boost book sales. Azon Best Seller provides numerous case studies, including the one that displays Johnson's tripled book earnings which were accomplished with the right kind of book cover and powerful promotional strategies.
Brian G. Johnson's new book is available at various Amazon online storefronts and will be on sale between March 21 and March 28, 2014.
Brian G. Johnson is a lifestyle crusader who has helped thousands of individuals to earn their first online dollars. He has successfully published two #1 bestselling Kindle books and has coached hundreds of like-minded entrepreneurs who ended up matching his efforts as well as his success. Mr. Johnson periodically releases educational materials that help small businesses as well as individual entrepreneurs to gain insight into new strategies that can take them to the top of their respective industries.
For more information visit: http://marketingeasystreet.com/.