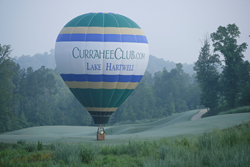 Southern Living Inspired Neighborhood
Atlanta, Georgia (PRWEB) March 14, 2014
It may seem like Baby Boomers have to fall into a rabbit hole to find their very own Wonderland these days among the myriad of neighborhood choices. Real Estate Scorecard is among the lucky ones, lucky enough to find Wonderland just around the corner in one of the best golf communities in Georgia. There are plenty of things to do at the Currahee Club in North Georgia at the base of the Blue Ridge Mountains. A new Southern Living Inspired Community and where to retire in Georgia this year. Learn why Currahee Club is a wonderland of the south and why surrounding Lake Hartwell real estate developments are on the top of buyer's minds in 2014.
Earlier this year, Currahee Club was announced as one of the founding communities in the Southern Living Inspired Community brand. The "charm, taste and southern spirit" of the Currahee Club was a perfect match for this brand. The editors of the Southern Living brand hand-picked Currahee Club and praised the natural beauty of the community's sweeping landscapes, while admiring the southern hospitality of the residents. Real Estate Scorecard couldn't agree more.
Take a peek at Currahee Club homes.
The charming essence of the community attracts plenty of retirees to Currahee Club, but the ideal location definitely makes this place a wonderland of the south. The 1,200-acre gated community community rests near Lake Hartwell and the views of the Blue Ridge Mountains is fit for royalty. The properties and homes overlook the lake, mountains and even the Signature #17 "Quarry Hole" that is part of the private community golf course. Retirees and visitors have a supreme view of one of the best golf communities in Georgia, and more and more people are inquiring about available Lake Hartwell real estate as they learn about the area. Property owners at Currahee Club are pretty happy here when Real Estate Scorecard consider's they scored the neighborhood 88 out of 100.
When deciding where to retire in Georgia, it is important to find a place that provides plenty of amenities. Currahee Club offers retirees national-class amenities including: one of the finest 48,000 square foot clubhouse's we've seen, a five-acre Sports Amenity Campus with swimming pool and fitness center, and Jim Fazio designed golf course. Natural trails and scenic walks are just added bonuses of this amazing community for residents, and Southern Living is looking forward to organizing events like on-site interior design, cooking, organic gardening and landscape design classes. Residents living in Currahee Club homes are busy with social activities and retreat back at the end of the day to relax in their own custom built Currahee Club home at Lake Hartwell.
Currahee Club and Lake Hartwell real estate are in high demand because of their Blue Ridge Mountain top location. Mountain Manor homes and Cotswold-style cottages are popular designs in this neighborhood, and one-of-a-kind architecture is celebrated within the community and by the Southern Living editors. Currahee Club is known as one of the best golf communities in Georgia, and earned the title as a Southern Living Inspired Community, another significant achievement.
To schedule a tour of Currahee Club, contact the welcome center direct at 888.560.2582.
About Real Estate Scorecard:
Real Estate Scorecard writes unbiased real estate reviews providing in-depth information about popular gated communities in Florida, Georgia, North Carolina, South Carolina and Tennessee, all in an effort to help people discover where to retire in the Southeast.
Website: http://realestatescorecard.com