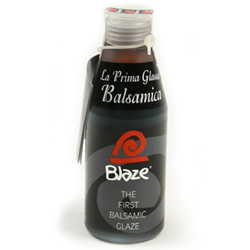 Balsamic glaze brings a wonderful sweet and sour combination to a variety of foods...
Youngstown, OH (PRWEB) March 14, 2014
Italian food specialist, Gourmet Italian, is proud to announce the availability of an expansive selection of imported balsamic glazes that are sure to satisfy the most discriminating chef or family cook. Their product line includes original balsamic glaze, numerous flavored glazes, and historically lauded balsamic products produced in Modena, Italy.
Balsamic glaze, also known as balsamic syrup and balsamic reduction, is the result of heating balsamic vinegar to reduce the product to a syrupy consistency. It leaves the flavors highly concentrated and therefore very flavorful. Balsamic glaze is used in a variety of Mediterranean based foods, and is commonly found topping a wide range of food options—from chicken to ice cream.
Balsamic vinegar products produced in Modena, Italy receive a special distinction due to their historical practices of production, and are protected by a designation of origin (PDO) issued by the European Union in April 2000. Balsamic vinegar not produced in Modena cannot carry the phrase "of Modena" on the product label.
Vinegar itself was discovered over 10,000 years ago, allegedly in Babylonia, when it was revealed that undisturbed grape juice ferments to produce wine, and after secondary fermentation, vinegar. Since that time, the Babylonians have used vinegar as a condiment and food preservative, the Romans enjoyed it as a beverage, and the ancient Greeks used it to pickle meat and vegetables. It is claimed to have medicinal and healing properties that even science has yet to completely understand.
Balsamic glaze is useful in foods ranging from appetizers to desserts. "The possibilities are almost endless," says one Gourmet Italian customer. "Balsamic glaze brings a wonderful sweet and sour combination to a variety of foods, increasing the flavor complexity of your favorite dish with very little effort."
Gourmet Italian's product line of balsamic glazes include flavors such as fig, blood orange, lemon, sun-dried tomato, strawberry, truffle, cinnamon, and many more. Producers include Roland, Dicosimo, Mussini, and Blaze, and many bottles carry the "of Modena" distinction on the label.
Balsamic glaze can be purchased on the Gourmet Italian food website. Additional information on a variety of balsamic glaze products are available on our Italian Food Blog.
Wholesale Food Network LLC operates out of Youngstown, Ohio, and has been doing business under the "Gourmet Italian" name since January 2009. For more information on any of their products, please visit the Gourmet Italian food store website.
Contact Information:
Wholesale Food Network LLC, d.b.a. Gourmet Italian
http://www.gourmetitalian.com
gourmetitalian (at) gmail (dot) com
866.460.0396