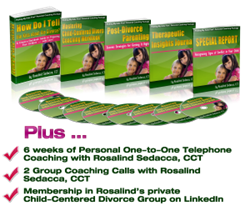 Your children deserve a happy childhood. Don't let your divorce take that from them.
West Palm Beach, FL (PRWEB) March 18, 2014
Divorce is never easy, especially when children are involved. Any parent worthy of the name is riddled with guilt, confusion, anxiety, fear and an array of other emotions. That's why founder of the Child-Centered Divorce Network and internationally-recognized Divorce & Parenting Coach, Rosalind Sedacca, CCT, created her new "Putting My Kids First" Personal Coaching Package.
Working with divorcing or divorced mothers or fathers, Sedacca provides six weeks of private one-on-one 60-minute telephone (or Skype) coaching sessions. Also included in the package are additional tools and resources to help parents protect their innocent children from hurt, anger and long-term emotional scars.
A significant component is Sedacca's 10-hr Mastering Child-Centered Divorce Audio Coaching Program with workbook. This comprehensive audio course helps parents resolve the day-to-day challenges of being a divorced parent. It covers the warning signs of problems, behaviors to avoid, techniques for peaceful conflict resolution, useful resources, proven success strategies, stress-reduction tips and more.
Some of the most in-demand topics covered, from a child-centered perspective, include:

How to diffuse conflict with a former spouse while maximizing positive communication
How parents can handle questions, depression, tension, arguments and other behaviors from their children
What to expect from children of different age groups – from toddlers through teens
How parents can stay centered and address their own needs during this time of transition
How parents can engage attorneys, mediators, therapists and other professionals – while not being "taken" themselves
How parents can handle weekly routines, schedules, activities and other responsibilities without losing their cool
Coping skills for co-parenting, single-parenting and other complex challenges that come with divorce
Each audio coaching lesson relates to material in the accompanying Workbook, including thought-provoking assignments, probing questions, valuable resources and other content that clarifies divorce and parenting issues.
The new "Putting My Kids First" Divorce Coaching Package also comes with several other bonuses:
How to Talk to Your Children – This audio seminar with Rosalind Sedacca reveals the most significant secrets to creating and maintaining a rewarding Child-Centered Divorce for the sake of your children.
How Do I Tell the Kids about the Divorce? A Create-a-Storybook Guide to Preparing Your Children — with Love! One of the most difficult conversations any parent will ever have is telling their children about an upcoming separation or divorce. What makes Rosalind Sedacca's internationally acclaimed ebook so unique is that she doesn't just tell parents what to say. She says it for them! Rosalind uses fill-in-the-blank age-appropriate templates to show parents how to create a storybook sharing family photos and history as a successful way to have this tough conversation.
Therapists, attorneys, mediators and other divorce professionals around the world have endorsed this book as a must-read for any parents moving through divorce. Even for those far beyond the "telling the kids" conversation, the book provides insights for successful co-parenting strategies from six divorce therapists that contribute to the book.
An in-depth interview with Guest Expert, Michael Mastracci, Esq., author of the outstanding book, STOP Fighting Over the Kids! Resolving Day-to-Day Custody Conflict in Divorce Situations. This is a solution-packed conversation with a compassionate expert who really cares about helping families after divorce.
Additional bonuses also include Sedacca's ebook – Post-Divorce Parenting: Success Strategies for Getting It Right!, her Therapeutic Insights Journal for parents, participation in Sedacca's Group Coaching Calls and her Child-Centered Divorce Group on LinkedIn as well as a Special Report by C. Paul Wanio, PhD, LMFT: Recognizing Signs of Conflict in Your Child.
"Your children deserve a happy childhood," says Sedacca. "Don't let your divorce take that from them. Learn how to be an alert, pro-active parent … how to create a cooperative post-divorce relationship with your former spouse … and how to take care of yourself and your children!"
"Your coaching program was enlightening – and while I saw mistakes I made, I can now, instead of cringing and castigating myself, see opportunity – how I can change! Great program!" – Sally T, St. Louis, MO
"Thanks for your great coaching! I really appreciate it and have already learned a lot of helpful things for me and my family." –Allan B, Atlanta, GA
Sedacca has made the "Putting My Kids First" Divorce Coaching Package available risk-free with a money-back refund guarantee. She is also offering the entire package at a discounted price during the launch period through the end of March.
To learn about Rosalind Sedacca, her coaching services and new package, visit:
http://www.childcentereddivorce.com/putting-kids-coaching-package/.