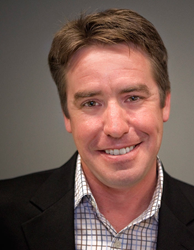 I'm looking forward to continuing to have a voice in the leadership of the firm, and being able to continue to advocate for sustainability and green design...
Irvine, CA (PRWEB) March 14, 2014
LPA Inc., one of the largest integrated design firms in Calif., is excited to announce the promotion of Erik Ring to Principal. Ring joined LPA seven years ago as the firm's first engineer and has proven himself as a leader in both mechanical engineering and sustainable design.
Ring ensures that all LPA projects exceed Calif.'s Title 24 requirements by at least 15 percent. He is a LEED Fellow, a LEED Faculty member for the U.S. Green Building Council (USGBC) and has consulted for and designed more than 50 LEED certified projects.
Ring is LPA's Design Director for MEP Engineering and a nationally recognized expert in green buildings. His passion for and knowledge of sustainable design helped him garner the title of LEED Fellow in 2013. Ring has served as a trainer and educator both within LPA and on behalf of the USGBC. His ability to articulate complicated engineering and green building concepts to a range of audiences is important to his new role as Principal.
"My only significant skill is that I'm good at communicating challenging and technical green building issues and breaking them down in ways that my colleagues and clients can understand," says Ring, modestly.
Ring has a Bachelor of Science in Engineering from Harvey Mudd College and a Master of Science in Architecture from UC Berkeley, where he performed research on mixed-mode buildings with the Center for the Built Environment. He is a licensed professional engineer and a member of the USGBC's Indoor Environmental Quality Technical Advisory Group. Before joining LPA, he was a green building consultant and MEP design engineer with firms that consulted to LPA.
Ring says this "breadth of different professional experiences prepared me well for the integrated design environment at LPA." He adds, "The seven years I've spent at LPA have been most important in preparing me for this position in that I've learned the culture of our firm and have created connections with LPA colleagues and clients."
While he will retain many of his current responsibilities, including the continuation of his USGBC involvement, Ring welcomes his new position.
"I'm looking forward to continuing to have a voice in the leadership of the firm, and being able to continue to advocate for sustainability and green design, which is easy to do at LPA because everyone is on board," he says. Ring also mentions looking forward to being an advocate and voice for LPA's engineering disciplines.
Looking to the future, Ring acknowledges both challenges and opportunities lying ahead. "The biggest challenge LPA faces is continuing to develop, refine and grow our integrated design process, and, most importantly, to continue to deliver great design to our clients. We want to demonstrate the strength of our process and our firm to our clients and to the world in general," says Ring.
In order to demonstrate this commitment to growth, the firm looks forward to new opportunities. According to Ring, "As the economy, in general, improves, LPA looks to continue to grow and develop. We see potential opportunities in new market segments, and new geographic regions of the country." In his new role as Principal, Ring will strive to cultivate these chances for growth. He says, "We're trying to find where there are new opportunities for LPA to continue to do good work for good clients."
About LPA Inc.
Founded in 1965, LPA has more than 200 employees with offices in Irvine, Roseville, San Diego and San Jose, Calif. The firm provides services in architecture, sustainability, planning, interior design, landscape architecture, engineering, and graphics. There is no "Sustainability Director," at LPA. Instead, more than 80 percent of the professionals are LEED accredited, including the Human Resources Director, CFO, and several other support staff. With extensive experience in public and private architecture, LPA designs a diversity of facilities that span from K-12 schools, colleges and universities, to corporate and civic establishments. More than 500 major design awards attest to LPA's commitment to design excellence. For more information, visit LPAinc.com.
###