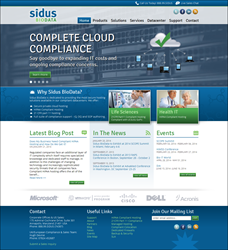 Attaining the EHNAC certification is further validation of the quality process and people that ensure our commitment to hosting HIPAA regulated data.
Annapolis, Maryland (PRWEB) March 17, 2014
Sidus BioData, leading provider of Compliant Cloud Hosting for Healthcare and Life Science companies across the globe, announced today it has achieved full accreditation with the Outsourced Services Accreditation Program (OSAP) for Data Center's from the Electronic Healthcare Network Accreditation Commission (EHNAC). EHNAC's OSAP accreditation recognizes excellence in health data processing and transactions, and ensures compliance with industry-established standards and HIPAA regulations. Through OSAP accreditation, other EHNAC candidates who use Sidus BioData will not have to pay for additional site visits to the organization.
Through the consultative review process, EHNAC evaluated Sidus BioData in areas of privacy and security, technical performance, business practices and organizational resources as it relates to outsourcing policies and procedures. In addition, EHNAC reviewed the organization's process of managing and transferring protected health information and determined that the organization meets or exceeds all EHNAC criteria and industry standards. Through completion of the rigorous accreditation process, the organization demonstrates to its constituents, adherence to strict standards and participation in the comprehensive, objective evaluation of its business.
"Outsourcing of various services has become a large and growing need for healthcare organizations that seek to create operational efficiencies and reduce costs, but privacy, security and confidentiality of PHI continues to be a crucial requirement for all associated business partners," says Lee Barrett, executive director of EHNAC. "To be classified amongst the EHNAC OSAP-accredited organizations, Sidus BioData has met a high standard in these areas as it relates to consent, authorization, authentication, access and audit procedures."
Sidus has offered secure managed hosting since its inception in 1999. In 2009, Sidus BioData was the first hosting company to market a validated datacenter. Traditionally, regulated companies have steered clear of using a vendor to host applications and data because it was believed that they could not meet privacy laws, security concerns, audit transparency requirements and that an adequate quality system was not in place. Sidus BioData has a full quality management system in place that governs everyday operations at the facility. The approach is to provide healthcare organization with a turn-key, affordable, compliant hosting solution that gives each customer peace of mind so that they can focus on their core business objectives.
"Attaining the EHNAC certification is further validation of the quality process and people that ensure our commitment to hosting HIPAA regulated data – specifically ePHI. The most rewarding part of the EHNAC accreditation was not just in the areas where we excel but also being challenged by the EHNAC team to further strengthen our compliance position," states Sidus Data CEO, Jason Silva.
About Sidus BioData
Sidus BioData is the leading provider of compliant hosting solutions for the Life Sciences and Health IT industries. Sidus is committed to the highest level of quality in the management, security and integrity of regulated data. Sidus' robust offerings in Cloud Hosting, Compliance Services and Managed Hosting, provide a comprehensive solution for Life Science and Health IT organizations.
For more information about Sidus BioData, please visit: http://www.sidusbiodata.com or contact
About EHNAC
The Electronic Healthcare Network Accreditation Commission (EHNAC) is a voluntary, self-governing standards development organization (SDO) established to develop standard criteria and accredit organizations that electronically exchange healthcare data. These entities include electronic health networks, payers, financial services firms, health information exchanges, medical billers, outsourced services, e-prescribing solution providers and direct trusted agents.
EHNAC was founded in 1993 and is a tax-exempt 501(c)(6) nonprofit organization. Guided by peer evaluation, the EHNAC accreditation process promotes quality service, innovation, cooperation and open competition in healthcare. To learn more, visit http://www.ehnac.org or contact info(at)ehnac(dot)org.