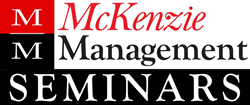 McKenzie Management speakers use interactive response card technology to customize the experience of each seminar participant in real time.
La Jolla, CA (PRWEB) March 19, 2014
Starting in April of 2014, McKenzie Management will add 8 new and timely topics to its Dental Practice Management Seminar Series. Dentists, Specialists, Study Clubs, and Dental Societies will now be able to enjoy these new subjects when scheduling McKenzie Management for their upcoming educational meetings.
The new topics are:
▪ Practice Transitions: Life Is A Series Of Surprises. Are You Prepared?
▪ Turning Your Potential into Production
▪ Building the Ideal Practice with Your Dream Team
▪ Straight Talk About Overhead Issues
▪ Goals of Case Presentation and Treatment Acceptance
▪ So Who Are We and Why Do We Do What We Do?
▪ The ABC's of a Practice Start Up
▪ Creating Predictable Employee Success
Aside from the reasonable and fair honorariums, what sets the McKenzie Management Seminar Series apart from other dental management programs is the unique approach to education. McKenzie Management speakers engage the audience using interactive response card technology to measure and discuss collective audience opinions with 100% anonymity. This allows the speaker to customize the experience to the interests and concerns of each participant in real time. With thirty years of involvement in dental practice management, each seminar provides an expert perspective on important trends, ideas and case studies in the dental industry.
You can find more information, discover the full list of seminars available, download course descriptions or register for a seminar by visiting http://www.mckenziemgmt.com/sem-presentations.php.
McKenzie Management is the nation's leading dental management and practice development consulting firm headquartered in La Jolla, CA. Working "on-site" with dentists across the U. S. and Canada for over 30 years, McKenzie Management provides knowledge, guidance and personalized systems that have propelled thousands of general and specialty practices to realize their potential and reach their own visions of success. You can find McKenzie Management on Facebook, follow for informative tips on Twitter, or connect with CEO Sally McKenzie on LinkedIn. To get more information on McKenzie Management email info(at)mckenziemgmt(dot)com, call (877) 777-6151, or visit our website at http://www.mckenziemgmt.com.