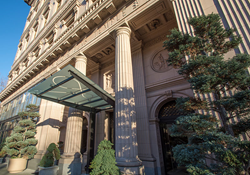 After a $6 million renovation, Portland's Governor Hotel is being reborn as Sentinel with a fresh new name, attitude and design.
Portland, OR (PRWEB) March 14, 2014
Today, in the heart of Portland's revitalized West End, the Governor Hotel is being reborn with a fresh new name, attitude and design. Dubbed Sentinel, after the robotic architectural sculptures that look out across the city from the top of the historic building, it will serve as a luxurious urban retreat and meeting place for the visionary thinkers, makers and doers who flock to this verdant, rain-soaked Pacific Northwest city for entrepreneurial and artistic inspiration.
Provenance Hotels, the Portland-based hotel company that owns and operates the city's critically acclaimed Hotel Lucia and Hotel deLuxe, purchased the Governor Hotel in April 2012 in partnership with Woodbine Development Corporation of Dallas, TX. Together, they have invested $6 million in an extensive renovation of the historic 100-room hotel. Aimed at reinventing the property for the future, it included the reinvigoration of all guest rooms, four floors of meeting space and the lobby. Jackknife, a new destination for craft cocktails, wine and beer, is slated to open in Sentinel's lobby in spring 2014.
The Sentinel project is the first collaboration between Provenance Hotels and Woodbine, a company that has been developing, renovating and repositioning hotels since the 1970s. "Transforming historic properties has been one of our specialties, and this hotel afforded us a great opportunity to apply our skills," said Woodbine's managing director Dupree Scovell. "The physical transformation called for a new name that tied back to the buildings' architecture and origins."
"Sentinels look around, look out and look back if it helps them look forward," added Bashar Wali, President of Provenance Hotels. "We felt, as we returned the two historic buildings that make up Sentinel to their original grandeur, it was appropriate to name the hotel in their honor."
Built as the Seward Hotel in 1909, Sentinel's East Wing was a favorite among the movers and shakers in the state's timber and mining industries. It was renamed the Governor Hotel in 1932 and served as the home of Atiyeh & Bros. carpet store after WWII when the building's fortunes fell into decline. The complex that houses Sentinel reopened in 1992 under the name Governor Hotel with the integration of the adjacent building. Sentinel's West Wing, built in 1923 as the Temple of Portland Elks Lodge No. 142, was added to the National Register of Historic Places in 1978 and now serves as the gateway to the Sentinel experience.
Today, guests enter under a new glass and steel awning into a grand space with soaring ceilings decked out in original gilt plaster relief. A custom-designed check-in desk inspired by a vintage librarian's table evokes the many stories of Sentinel, while a chic Turkish-inspired rug, dramatic green leather armchairs and roughhewn wood tables provide an inviting seating area and subtle reference to the building's retail history, Oregon's lush landscape, and the region's heritage as a timber capital.
"Epic stories have unfolded within the walls of the historic buildings that make up Sentinel, and our guests are destined to add their own chapter," added Wali. "Our goal with this hotel was to honor the past with a design that makes our guests feel at home but also inspires them to seize the day."
Like all Provenance Hotels, Sentinel boasts a signature art collection. In this case, it pays homage to visionaries who made history and changed the world. In the guest room corridors, travelers will stroll past a collection of larger-than-life, black-and-white white photos of a young Muhammad Ali hamming it up for the camera, Vivienne Westwood chatting up the Sex Pistols' Sid Vicious in a London Club, and Martin Luther King Jr., moments after delivering his "I Have a Dream" speech. In the guest rooms, guests will find pop art takes on visionaries from John Lennon to Steve Jobs to Jackie Robinson.
Sentinel's guest rooms, painted a saturated emerald tone that calls to mind the Oregon forests, boast whimsical touches like linen pillows screen-printed with antique bicycles, glittering silver owl statues, vintage lunch boxes and colorful metal globes that add a touch of Portland style. Working fireplaces incorporate a cozy element in select rooms and, on the sixth floor of the West Wing, six City Terrace Studio Suites feature outdoor rooftop balcony patios. Across the hall, six Bridgetown Parlor Suites designed for Sentinel by Portland's Boy's Fort, a retail store and design studio, feature original pastel drawings of Portland's iconic bridges, framed Oregon botanicals, light fixtures from Portland's Schoolhouse Electric and objects d'art handcrafted in or inspired by the city of Portland.
All guest rooms at Sentinel feature Provenance Hotels' signature menus of amenities from which guests can order up their preferred book of faith, an iPod preloaded with Portland music or their preferred pillow. As a result of Provenance Hotels' ongoing partnership with Salt & Straw, Portland's famed artisan ice cream purveyor, Sentinel guests can have a pint of Salt & Straw delivered right to their guest room.
Sentinel guests and Portlanders alike will be drawn to the 23,000 square feet of meeting space that once was the playground of the Elks and today serves as the nucleus of Portland civic life, welcoming visiting luminaries from around the world for conferences and events. This treasure trove of 13 rooms in Sentinel's West Wing have been lovingly returned to their original grandeur with the addition of plush vintage-inspired carpeting, jewel-toned paint that complements the original plaster and gold leaf gilt ceilings, sparkling crystal light fixtures and elegant leather armchairs in the hallways.
The buildings that make up Sentinel are not only a history-lover's dream but now pay homage to visionaries past, present and future. During the last century, countless stories have been written inside this epic hotel and, now, Sentinel invites travelers to come and be a part of the next chapter.
# # #
About Sentinel
Located at 614 SW 11th Avenue in downtown Portland, the 100-room Sentinel is a boutique hotel that opened in March 2014 in what was formerly the Governor Hotel. Sentinel features an art collection that includes larger-than-life life photos and original prints highlighting those who changed the world with their contributions to civil rights, fashion, sports, music and innovation and features amenities like Provenance Hotels' signature pet offerings; Pillow, Spiritual and iPod menus; and a "Make It So" button on every hotel phone for the most whimsical desire or typical need. Sentinel can be found online at http://www.sentinelhotel.com http://www.facebook.com/SentinelHotelPortland, http://www.twitter.com/sentinel_hotel and http://www.instagram.com/sentinel_hotel. Reservations are available online or by phone at 503-224-3400.
About Provenance Hotels
Provenance Hotels is an award-winning collection of urban boutique hotels with a distinct and deeply integrated art story and unique, welcoming amenities. It includes Hotel deLuxe, Hotel Lucia and Sentinel in Portland, Ore., Hotel Max in Seattle, Wash., Hotel Murano in Tacoma, Wash., and Hotel Preston in Nashville, Tenn. Provenance Hotels can be found online at http://www.provenancehotels.com.
About Woodbine
Woodbine is a 40-year-old, full-service real estate company focused on development, investment/acquisition and asset management opportunities across the United States. The company specializes in hotels, resorts and golf courses; multiuse land and mixed-use developments; and real estate services provided to corporations, non-profit organizations and individuals. Woodbine has been involved with more than $2 billion in commercial real estate projects, including development, ownership and/or asset management of more than 6,500 hotel rooms, 18,000 acres of land and 126 holes of championship golf. To learn more, visit http://www.woodbinedevelopment.com