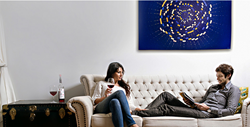 Genetic Ink's ambitions are profound - to not merely create something attractive, but to deliver on the very promise of art itself. DNA Art strives to express the very essence of humanity.
New York, NY (PRWEB) March 18, 2014
After a year of research and development, former neuroscience researcher, Kishan Bhoopalam, now CEO of Genetic Ink, announces the release of DNA Art, the first product to create fine art from human and animal DNA. The company's engineers partnered with Swiss-Canadian artist and designer Mathieu Daudelin to create Spark, an Art Style that expresses the nuances found in an individual's DNA. The final product is a beautiful, heavy-canvas, giclée fine-art print ready for home or gallery.
Bhoopalam says, "People don't realize it, but we're entering the genetic era. DNA sequencing isn't a billion dollar experiment anymore. It's not just for diagnostics either. Finally, the technology is affordable, simple and nonintrusive enough that we can use it to express and share our unique beauty."
Genetic Ink is not the first company to offer DNA Art. For many years, others have offered enlarged, dyed copies of DNA electrophoresis gels, the same ones found in many high-school biology labs. Electrophoresis does not actually sequence DNA, but only nominally represents it. However, Genetic Ink's goal is not to merely render attractive designs from DNA, but to create true art from the actual DNA sequence, a previously cost-prohibitive endeavor. This requires collaboration with artists, whose concepts, shapes, colors and relations are then turned into generative algorithms that morph to express the nuances of their subjects' DNA.
Last year, technology industry veteran, Alex Pyatetsky, came on board as Senior Advisor to the company.
"Many technology companies take on obvious, low-hanging challenges. Despite impressive engineering, the unwillingness to tackle deeper, murkier, qualitative challenges is undeniable. Genetic Ink's ambitions are profound - to not merely create something attractive, but to deliver on the very promise of art itself. DNA Art strives to express the very essence of humanity."
Mathieu Daudelin, the Swiss-Canadian artist and designer responsible for collaborating on Spark, the company's first Art Style, agrees.
"This team understands the difference between art and its descriptive decomposition. DNA data is simply a text file. This raw source does not transmit feelings of beauty, wonder, or inspiration. It is up to the artist to give meaning to that data and let the audience respond to this interpretation. That is why Genetic Ink's DNA Art focuses on art, not merely data visualization. And by doing so, they create a meaningful impact on art, as well as technology."
The Spark Art Style will be available in 4 sizes, ranging from 12" x 16" to 36" x 48", with prices starting at $200. Each piece of DNA Art includes a cotton cheek swab DNA collection kit, also designed by Daudelin, which works for adults, children, and pets. The kit is returned to Genetic Ink's CLIA-certified lab, where it undergoes fully anonymized sequencing. That sequence is fed into the Spark Art Style algorithm, and the resulting DNA Art is printed onto heavy, gallery-quality canvas.
Genetic Ink launches Spark, its first DNA Art offering, March 2014. Art and science enthusiasts are invited to sign up for the announcement at GeneticInk.com.
About Genetic Ink
Genetic Ink is the art meets science company. They collaborate with leading artists and engineers to create unique fine art from biological data. Genetic Ink seeks to inspire awe and wonder of the natural world by illuminating it through the lenses of art and science.
Genetic Ink is the first company to create true DNA Art, artist-driven, gallery-quality art from sequenced human and animal DNA.
About Kishan Bhoopalam - CEO
Kishan Bhoopalam is an Indian-American biotechnology entrepreneur and CEO of Genetic Ink. Bhoopalam was previously a neuroscience researcher and co-founded a nutraceutical venture.
About Mathieu Daudelin – Collaborating Artist, Spark
Mathieu Daudelin is a Swiss-Canadian artist and designer and graduate of l'Ecole cantonale d'art de Lausanne. His creative aspirations are to better understand the world around him.
His work explores visual language and manipulation of different materials to express ideas. It focuses on the creative process, deriving as much meaning from experimentation and exploration as from the final product itself.
About Alex Pyatetsky – Senior Advisor
Alex Pyatetsky is a serial entrepreneur and cofounder of The HOTH Corp., acquired by Next Net Media in 2013. He is a speaker on subjects ranging from growth, user experience and startup M&A. He advises startups in verticals ranging from real estate, entertainment and biotechnology.
*** For further media inquiries, please contact press(at)geneticink(dot)com. ***