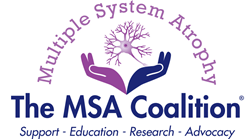 We believe, as has been the case with other rare disorders, the successful implementation of a Global MSA patient registry will foster collaborative research opportunities that ultimately benefit the MSA patients.
New York, New York (PRWEB) March 17, 2014
The Multiple System Atrophy Coalition has awarded a $44,000 grant to Dr. Florian Krismer (Innsbruck Medical University), Dr. Lucy Norcliffe-Kaufmann (New York University), and Dr. Italo Biaggioni (Vanderbilt University) to establish the first-ever global registry dedicated to Multiple System Atrophy (MSA) patients. Together they will collaborate with other members of the European MSA Study Group and the Autonomic Disorder Research Consortium (USA) to collect patient data.
"So far there have been no successful clinical trial designs for disease modifying therapies that slow or prevent neurodegeneration in MSA. This is in part because clinical trials in MSA are difficult to power and require multi-site collaborative efforts to test promising new therapies for patients," stated Dr. Norcliffe-Kaufmann. "We propose to overcome this by designing the registry with the infrastructure to contact patients on an international scale, and recruit them into current clinical trials to test the efficacy of proposed novel therapies."
The Global MSA Registry will use the Research Electronic Data Capture (REDCap). REDCap was developed at Vanderbilt University to support clinical research and foster collaborations between investigators. REDCap has a very robust and secure database in the background, but with simple web-enabled data entry system based on user-generated case report forms (CRFs).
"The goal with REDCap is to generate a unified core of CRFs used by all investigators to define the phenotype and natural history of multiple system atrophy," stated Dr. Biaggioni. "At the same time, investigators can access their individual data and use the other functionalities of REDCap, including expanding their own databases. It also allows for patients to enter data in the form of investigator-initiated surveys. It is accessible throughout the world, making it an ideal platform to support the sharing of data essential to the mission of the MSA Coalition."
Facilitating future worldwide clinical trials, the registry will be used to notify all patients that meet study entry criteria for clinical trials in MSA on an international scale. The registry will also provide a means for sharing anonymous patient information to define the disease specific characteristics and establish the definitive natural history of MSA. Registered patients will be followed thoroughly and periodically to identify potential biological markers of disease risk and severity in a global, worldwide longitudinal prospective study.
"We believe, as has been the case with other rare disorders, the successful implementation of a Global MSA patient registry will foster collaborative research opportunities that ultimately benefit the MSA patients," stated Dr. Krismer. "We are very grateful to The Multiple System Atrophy Coalition for funding this important project."
"One of the goals of the MSA Coalition is to foster worldwide collaboration among MSA researchers," said Pam Bower, MSA Coalition Board of Directors. "It is so encouraging to know that researchers are ready and willing to work together. We are so pleased that our research award will be used to benefit multiple system atrophy patients, not only in the United States, but around the world. It is also important to thank all of our grass-root donors and the CARRE Foundation. Their donations and fundraising events made this MSA research grant possible."
About The MSA Coalition® Research Grant Program
The Multiple System Atrophy Coalition established a dedicated MSA research fund in 2011. Then, the organization established an MSA Research Grant Program along with a scientific advisory board (SAB) in 2013. The goal of the MSA Research Grant Program is to identify and fund MSA research projects that have the potential to discover a cause, disease modifying treatments, and hopefully a cure. The world-class SAB ensures that The MSA Coalition is funding the most promising research. At present, 75% of each donation received by The MSA Coalition goes directly into the research fund. The other 25% used to fund advocacy, awareness, educational initiatives and minimal operating expenses.
For more information or to donate to The Multiple System Atrophy Coalition, please visit: http://www.Multiple-System-Atrophy.org.
About Multiple System Atrophy
Multiple system atrophy (previously known as Shy-Drager Syndrome) is a rare and fatal disorder with less than 15,000 Americans diagnosed and 35,000 undiagnosed at any given time. According to the National Institutes of Health, "Multiple system atrophy is a progressive neurodegenerative disorder characterized by symptoms of autonomic nervous system failure such as fainting spells and bladder control problems (neurogenic orthostatic hypotension), combined with motor control symptoms such as tremor, rigidity, and loss of muscle coordination. MSA affects both men and women primarily in their 50s. MSA tends to advance rapidly over the course of nine to 10 years, with progressive loss of motor skills, eventual confinement to bed, and death. There is no remission from the disease. Currently no cure is available."