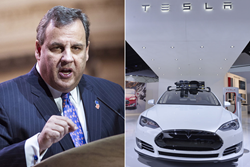 Tesla is changing the world and keeping American greatness alive. We can't let special interests and political corruption get in the way of that.
New York, New York (PRWEB) March 14, 2014
In response to Governor Christie's announcement of a statewide ban against Tesla, a crowdfunding campaign has emerged on the political platform FundElevator.
The campaign is to raise money for a lobbying effort, footed by the people, to fight against the ban on Tesla in New Jersey. This is not the first time Tesla has run into opposition at the state level, but it does mark the first time that there is a public outcry to defend the company.
The mysterious new group behind the campaign, known only as the People's PAC, claims that the only reason this ban happened is because of lobbying by auto dealers, and not because it is good for the public.
They look at Tesla as the modern day Rearden Steel, and Tesla CEO Elon Musk as an innovator that is moving the country forward despite push back from those who enjoy the status quo. They go on to portray Tesla as a story that is about more than a car company doing all the right things-- it is about innovation and preserving the American dream of greatness.
The campaign reads like a call to arms, to rally together and fight back against the political corruption brought on by campaign contributions and lobbyists.
The Auto Dealers of America are a powerful lobby that have been fighting to ban Tesla in several states. The contributions to sponsors of such bills can be tracked on sites like followthemoney.org.
This is nothing new. But what is different this time is that the public wants to create a lobbying group of their own, and as they say, "fight fire with fire". The Auto Dealer group in New Jersey, NJCAR, has spent around $155,000 this past year (Tesla spent $0 lobbying NJ).
They go on to slam Christie and others like him for espousing free market ideology one day, and then doing the exact opposite the next.
It will be interesting to see how this grassroots campaign plays out, as they promise full refunds if their goal of $155,000 is not hit in 90 days. If successful, there is potential for FundElevator to disrupt not just NJ, but also the political system as a whole.