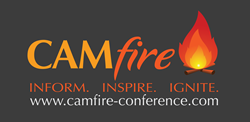 "Our goal is [to create] an event that brings TOPS users and CAM professionals together to INFORM attendees about CAM industry trends, INSPIRE them to be a positive force, and IGNITE in them a passion to serve." Mike Hardy, President TOPS Software
Clearwater, FL (PRWEB) March 14, 2014
TOPS Software, the developer of the industry-leading TOPS Professional Software suite for Condominium and Homeowner's Association Management, announced today that they will be organizing two CAMfire Conferences in 2014. The brand new conference will be a re-conceptualized version of the traditional User Conferences TOPS Software has held in the past.
The conference will include over 30 different classes featuring CAM industry topics such as communications, customer service, technology, and board management, as well as classes specific to TOPS Software programs. In addition to the classes, the conference will feature multiple keynote speakers and interactive panel discussions.
The 2014 CAMfire Conferences will be held in the following cities:

St. Petersburg, FL – August 7-8
Las Vegas, NV – September 25-26
"By any measuring stick, our user conferences have been successes. Well attended, well supported, high attendee feedback – we can honestly say we've achieved all that these past four years. So why look to change it? Simply put, we see an opportunity to create something big and amazing." said Mike Hardy, President of TOPS Software.
"We're going to take a page out of other technology leader's playbooks (like Salesforce and Hubspot) to create the CAM industry equivalent of Dreamforce or Inbound, both events that have transcended being just a user conference to become a required destination for their respective industries.
The CAMfire Conference will deliver all the great content that we've offered at TOPS user conferences in the past, plus multiple featured keynote speakers, industry topic discussions lead by thought leaders, and executive level content. Our goal is an event that brings TOPS users and CAM professionals together to INFORM attendees about CAM industry trends, INSPIRE them to be a positive force, and IGNITE in them a passion to serve."
Additional information about the CAMfire Conference is available online at http://www.camfire-conference.com.
About TOPS Software
TOPS Software, the leader in Condominium and HOA management solutions, is committed to bringing the best products and services to market. TOPS products are used by thousands of organizations to manage millions of homes across the United States. Learn more about TOPS at http://www.topssoft.com.