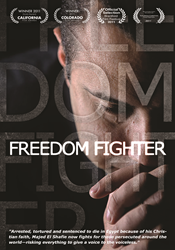 Toronto, Ontario (PRWEB) March 13, 2014
VisionTV has announced the Canadian broadcast premiere of FREEDOM FIGHTER, the story of Rev. Majed El Shafie's incredible life and exceptional courage. The award-winning documentary will air in its entirety on Monday, March 31st at 10 p.m. ET / 7 p.m. PT.
Majed El Shafie was born a member of the Egyptian Muslim elite. When he converted to Christianity, he was arrested, tortured, and sentenced to die in Egypt because of his faith. Narrowly escaping to Israel on a jet ski, he arrived in Canada 12 years ago as a UN sponsored refugee. From a Persecuted Fugitive, Majed El Shafie became a Rescuer of the Oppressed through the human rights organization he founded called One Free World International.
Today, Majed El Shafie writes, speaks, lobbies and travels to the riskiest parts of the world to witness and reveal the grave injustices still being perpetrated against people of faith in today's world, whether that be Christians and Jews in the Middle East, Muslims in China and Myanmar, and Baha'is and Zoroastrians in Iran.
In FREEDOM FIGHTER, we hear his interviews with victims who recount stories of threats, rape, torture, merciless beatings, slave labour camps, and organ harvesting; we see Majed El Shafie going to the front lines in Iraq, Afghanistan and Islamabad, Pakistan where he undertakes a dangerous mission to rescue a persecuted family of seven to Canada, including a three-year-old girl who was raped and abused because her Father refused to convert to Islam.
Directed by Chris Atkins, the documentary also features special guests including Jason Kenney, Minister of Employment and Social Development and Minister for Multiculturalism, and Mario Silva, former MP and 2013 Chair, International Holocaust Remembrance Alliance.
Majed El Shafie regularly testifies before the U.S. Congress and the Canadian Parliament and Senate, and he's a frequent guest on news outlets worldwide, including TheBlaze TV's Glenn Beck, FOX News Radio, Mike Huckabee Show, Phil Valentine, Laura Ingraham, CBN News, CBC, Sun News Network, CTV News and many more.
FREEDOM FIGHTER is available now on DVD from Destiny Image Films. A companion book, FREEDOM FIGHTER: One Man's Fight for One Free World, is also available wherever books are sold. For more information, visit http://freedomfighterdvd.com.
For information on Vision TV's broadcast premiere of FREEDOM FIGHTER:
http://www.visiontv.ca/shows/freedom-fighter/.
To learn more about One Free World International:
http://www.onefreeworldinternational.org.
FREEDOM FIGHTER photos:
https://www.hightail.com/download/elNMaUNGT01Fd2RjR05Vag
MEDIA CONTACTS
For Majed El Shafie:
Brian Mayes
brian(at)nashvillepublicity(dot)com
615.771.2040
For VisionTV:
Leanne Wright
leanne(at)zoomer(dot)ca
416.886.6873
WHERE TO WATCH VISIONTV
Rogers 60 & 237
Bell 261
Shaw Direct 394
Visit http://www.visiontv.ca for your local listing.