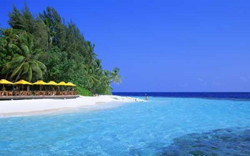 "This kind of flexibility, combined with the additional features of this neighborhood like the gym and expanded common areas, makes this unit perfect for our American and Canadian buyers who expect certain amenities"
Playa del Carmen, Mexico (PRWEB) March 14, 2014
With the success of the first phase done and completely sold out, investors and buyers have been anxious for the release of the new phase of the "Palms" which has been under construction about 6 months. A few days ago, the developer released 7 units, and because they are still in the pre-sale phase about a month or so away from completion, has decided not to raise prices.
This neighborhood, which features 40 2- and 3-bedroom townhomes, is reserved for American and Canadian buyers. It features several additional amenities that have made it very popular with buyers from the north, including two separate swimming pools, a BBQ/ picnic area and a fully equipped fitness center.
These first units are under construction and currently priced at $119,000 USD. Upon completion of construction, the builder has announced plans to increase the base price to $134,000 USD. During pre construction, the buyer can also determine how the floor plan is configured. Two options are available – one with 2 bedrooms and 3 bathrooms and one plan with 3 bedrooms and 3 bathrooms.
"This kind of flexibility, combined with the additional features of this neighborhood like the gym and expanded common areas, makes this unit perfect for our American and Canadian buyers who expect certain amenities" says Steve Didier, Chief Marketing Officer for American Realty. "At $134,000 these units are the best deal in the Caribbean, at $119,000, they are a steal. These will not be on the market long."
Sales have been brisk with buyers competing for the units with the best placement in the complex. "Every time we get a new block of units released for sale, there is always competition for the premier units within the neighborhood" say Pablo Garcia, Customer Relations Manager with Caribbean Living. "On several occasions, it's come down to time stamps on the reservation forms."
When the remainder of the 40 Palms units in this neighborhood are sold out, it is unclear whether they will build another neighborhood with these amenities. The Tropical model was another very popular floor plan and when those neighborhoods sold out, the builder for Caribbean Living discontinued the model, although there are plans to modify the floor plan and release it later this summer at a significantly higher price.
For more information on the Caribbean Living project, contact Steve at American Realty.