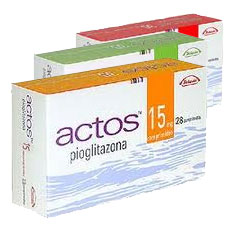 The researchers concluded that their evidence could not exclude an increased risk of bladder cancer with Actos.
Raleigh, NC (PRWEB) March 23, 2014
Cancer Monthly is reporting on the results of an Italian Meta-Analysis involving more than 13,197 patients who had taken either the diabetes drug Actos or another thiazolidinedione called rosiglitazone.
Researchers at the Careggi Teaching Hospital in Florence, Italy scoured the medical literature for both published and unpublished trials that could help to clarify whether or not there is an increased risk of specific cancers such as bladder cancer after treatment with Actos.
All trials in the meta-analysis lasted at least 52 weeks and had to include at least once incidence of cancer. To be included in the analysis, a trial could enroll both diabetics and non-diabetics and did not have to be focused specifically on the link between Actos and bladder cancer. The researchers found 22 trials that met their criteria. A total of 3,710 patients in these studies had taken Actos. The rest had been treated with rosiglitazone.
After a mean follow-up of 26.1 months, the researchers concluded that their evidence could not exclude an increased risk of bladder cancer with Actos, although the overall risk of all cancers was not increased. "In further subgroup analyses of site-specific malignancies based on the data from four trials, the risk of bladder cancer with pioglitazone (Actos) was 2.05," they report.
Interestingly, while the risk of bladder cancer persisted, Actos use appeared to decrease the risk of breast cancer while rosiglitazone decreased the overall risk for bowel cancer. The original study is published in the Italian medical journal Actoa Diabetologica. (Monami, M, "Thiazolidinediones and cancer: results of a meta-analysis of randomized clinical trials", February 2014, Acta Diabetologica, pp. 91-101. http://www.ncbi.nlm.nih.gov/pubmed/23851465)
Actos is FDA-approved for the management of blood glucose levels in patients with type 2 diabetes. The drug carries a black box warning for diabetic patients about the possible increased risk of bladder cancer. ("FDA Drug Safety Communication: Update to ongoing safety review of Actos (pioglitazone) and increased risk of bladder cancer", http://www.fda.gov/drugs/drugsafety/ucm259150.htm)
For over ten years, Cancer Monthly has been the only centralized source of cancer treatment results. Patients can see the actual survival rate, quality-of-life indicators, and other key data for approximately 1,500 different cancer treatments. Cancer Monthly provides timely and ground-breaking news on the causes, diagnoses and treatments of the most common cancers including Bladder, Brain, Breast, Colon, Kidney (Renal), Liver, Lung (NSCLC), Ovarian, Prostate and Rectal Cancers, Melanoma, Mesothelioma, and Non-Hodgkin's Lymphoma. Written for patients and their loved ones, Cancer Monthly helps families make more informed treatment decisions.