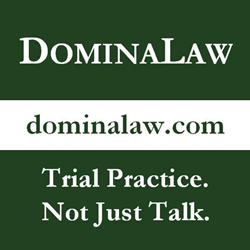 Omaha, NE (PRWEB) March 13, 2014
Domina Law Group's Dave Domina and Brian Jorde were named legal lions by LexisNexis's prominent online publication for lawyers called "Law 360". The announcement, February 20, 2014, cited work by Domina and Jorde resulting in a declaration that a Nebraska statute is unconstitutional.
The statute, enacted to facilitate the construction of crude oil pipelines, including the TransCanada Keystone XL Pipeline, was declared unconstitutional in a case brought by Domina and Jorde for Nebraska property owners against the State Governor (CI 12-2060, Lancaster County District Court, February 19, 2014).
After citing lawyers in London for their services and counsel for Facebook in a major transaction, Domina Law Group was cited. LexisNexis wrote:
Back across the Atlantic, attorneys from Domina Law Group pc llo, representing a group of landowners, successfully convinced a Nebraska State Judge to nix Gov. Dave Heineman's approval for a new route for the TransCanada Corp's controversial Keystone XL Pipeline. Lancaster County Judge Stephanie F. Stacy sided with a group of landowners who challenged the law, LB 1161, saying it took away the exclusive authority of the state to regulate pipeline routes. Keystone opponents celebrated the ruling, which casts further doubt on the future of the project as it still requires the approval of the Obama administration (Law360, Washington, February 20, 2014).
Domina added, "This case is not about the merits of any pipeline in particular. This is a landowner rights case involving whether a specific statute was invalid under the Nebraska State Constitution."
About the Firm:
Dave Domina founded Domina Law Group pc llo in 1975. The firm is based in Omaha, Nebraska, but serves clients nationwide. In fact, Mr. Domina has appeared in court in 43 out of 50 states. The firm's mantra is "Trial Practice. Not Just Talk℠" because while many law firms talk about trial experience, Domina Law Group actually does it. To learn more about Attorney Dave Domina, Attorney Brian Jorde, and Domina Law Group, visit http://www.dominalaw.com.