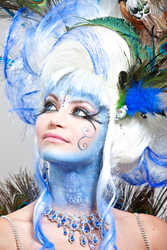 Los Angeles, CA. (PRWEB) March 14, 2014
EI, School for makeup artists, is delighted to welcome 6 new makeup instructors to our already amazing team. We are confident that their fresh creative ideas and professional experience will propel us to new heights.
Ben Rittenhouse
Ben Rittenhouse is a graduate of the Art Institute in Pittsburg, an Emmy Award winning makeup artist (The Pacific, 2010) and has cultivated a successful and tenured career in the entertainment industry. Ben's main focus is in Special Effects makeup, prop creation, and character prosthesis. His Projects Include:

Star Trek • Hunger Games
Avatar • Anchorman
Hangover 3 • CSI
Kill Bill: Vol. 1&2 • Hulk
RIPD • Grey's Anatomy
The Mist • Hostel
The Sorcerer's Apprentice • The Hills Have Eyes
Lemony Snicket's A Series of Unfortunate Events
The Texas Chainsaw Massacre: The Beginning and Sin City
The Chronicles of Narnia: The Lion, The Witch & the Wardrobe
Randy Westgate
Randy grew up in the northeastern United States in the small town of Sandusky, Ohio and moved to California in 1989 to attend EI. Upon graduating in 1990, he quickly developed a successful career as one of Hollywood's most sought after makeup artists. Randy's diverse skill set has won him five Makeup Guild awards and 8 Emmy nominations for his work on such productions as:
X-Men Origins: Wolverine • Valkyrie
Pride and Glory • The Incredible Hulk
Comedy The Hollow Men • Cursed, Blue Collar TV
The Whole Ten Yards • Red Dragon
Holes • Panic Room
Mulholland Drive • Gone in Sixty Seconds
The Mexican • Fight Club
Grimm • Mad TV
Lincoln • Pirates of the Caribbean: At World's End
Randy is an active member of the Local 706 Makeup Artist Union and teaches
makeup for TV and Film at EI.
Lisa Buono
Lisa Buono has been working on some of Hollywood's most beautiful faces for more than two decades. Her journey began in 1989 after studying at Joe Blasco School of Makeup. She trained in all aspects of makeup artistry and began working on B horror movies as Department Head. After several years she joined the union and became a key makeup artist and department head for popular soap operas, sitcoms, and feature films. Lisa furthered her career with the opportunity to become a motion capture technician for movies such as Polar Express and Monster House. Her film and TV credits include:
Mr. and Mrs. Smith • Fight Club
Introducing Dorothy Dandridge • Gone in 60 Seconds
Bones • Once and Again
Wizards Of Waverly Place • CSI NY
Corey In The House • Dancing with the Stars
Blue Collar • Bold and the Beautiful
Jeopardy • The Middle
Jimmy Kimmel Live
She is a journeyman in the makeup and hair union, IATSE local 706 in Los Angeles. Lisa is also a licensed cosmetologist, esthetician, and specializes in lash extensions and oncology esthetics.
Karisa Preto
Karisa Preto was born in Santa Cruz, California, and was raised in the nearby tranquil Santa Cruz Mountains. At a young age, she developed strong artistic interests and endlessly demonstrated her blossoming talent. She began taking on many artistic mediums, with special interest in painting and photography. While studying Art History and Visual Communications at college, she began working with photographer Tristan Carkeet, as his key makeup artist for high fashion photography. She found herself falling in love with the art of makeup. She then became one of the youngest makeup artists ever to work for M.A.C. cosmetics. From there, she moved to the city of Los Angeles to pursue her dream of becoming an independent artist, and she enrolled in the makeup program at Elegance International. Since graduating from E.I., she has specialized in beauty, theater, and high fashion makeup, as well as in body painting. Karisa maintains a presence in the beauty world and is actively working with high fashion photographers and designers. She is currently under contract with Make Up For Ever Pro as a top freelance makeup artist. At EI, Karisa specializes in teaching beauty makeup and high fashion makeup.
Victor Coriann
Victor has a Bachelor's Degree in Liberal Arts with a major in Theater from the University of Puerto Rico. He then continued his academic training in New York City, where he obtained his MFA. While in NYC, he worked with several Off Broadway theater companies in all aspects of production makeup. Victor has also served as a Professor at Universidad del Sagrado Corazon and Universidad del Este. Recently he worked with Amethyst Films as an Associate Producer for the award winning film "Ill Viaggio". Because of his expertise, he was in charge of the entire film's makeup and special effects. At EI, Victor teaches Theatre Makeup.
Jennifer Watkins
Jennifer is a native Los Angeles makeup artist and a proud graduate of EI. Jennifer works extensively for Chanel cosmetics and specializes in Beauty Makeup, Corrective Makeup, as well as Runway/Photography Makeup. In addition, Jennifer also works as a freelance makeup artist for various celebrities, red carpet events and media outlets. At EI, Jennifer shares her knowledge and expertise as an instructor for beauty and corrective makeup courses.