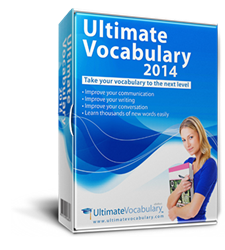 It's crucial that ESL learners and native speakers alike learn how to create meaningful and grammatically correct sentences.
New York City, NY (PRWEB) March 20, 2014
Ultimate Vocabulary™ software, developed by globally acclaimed e-learning company eReflect, recently used its popular blog to host a guest post by Jennifer Stewart on the correct use of the apostrophe, a punctuation mark that can indicate possession or mark a missing letter.
When it comes to punctuation marks, both native and non-native speakers of English find that proper grammar and usage can be tricky. Jennifer Stewart explains to Ultimate Vocabulary™ blog readers, through an easy-to-follow blog post, how to correctly use the apostrophe to indicate possession. She reveals how nouns that indicate their plural by undergoing internal changes, such as the alteration of "woman" to "women," have the spelling in the possessive case of, for example, women's and not womens' as many often mistakenly write it as.
Blog readers also learn how to use the apostrophe with proper names that end in –s like Charles and Lars. Stewart clarifies that an extra "s" is needed when the name needs to indicate possession. As she explains, the extra "s" appears in the phrases "Charles's pen" and "Lars's car" (among other examples).
Stewart also solves a common problem for many learners of English, that of how to clarify whether an "s" indicates possession or letter omission. Her suggested approach is to see if that sentence will make sense when rephrased with the inclusion of the preposition "of". For example, if a person is not clear whether the phrase "She went to the women's club" uses a possessive –s all they need to do is see if it's still grammatically correct by inserting the word "of" which, in this case, results in the phrase "She went to the club of women." This little verification exercise ensures the learner uses the apostrophe correctly and helps avoids any awkward misspellings. Implementing such a simple rule ensures ESL learners avoid this widely common grammar mistake, eReflect confirms.
Striving to increase vocabulary knowledge doesn't end the work of the student in English. It's crucial that ESL learners and native speakers alike learn how to create meaningful and grammatically correct sentences. eReflect recommends that equal attention should be given to both vocabulary acquisition and grammar learning for a balanced, proficient use of the English language.
***********
For more information on how you can benefit from Ultimate Vocabulary, please visit its official website, http://www.ultimatevocabulary.com.
About Ultimate Vocabulary™
Ultimate Vocabulary provides a proven and powerful platform, built to improve anyone's vocabulary.
The interactive self-improvement system provides more learning tools than any other program on the market, as well as more information on words.
The Ultimate Vocabulary software provides each and every user with a personal computer tutor. Providing a step-by-step guide to learning a powerful vocabulary, Ultimate Vocabulary is the learning tool everyone can benefit from.
Of course, the software is also backed by eReflect's iron-clad money back guarantee.