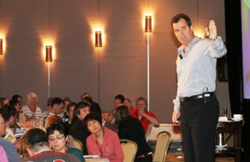 One of the first things that I teach my students is that it's not about the price you pay, but how they pay the price.
(PRWEB) March 14, 2014
Kris Hopkins, Minister for Housing, clarified that low supply is the main issue causing the recent jump in house prices in the U.K, (Whatmortgage.co.uk reported on 11 March 2014).
Minister Hopkins issued this statement in response to the Intermediary Mortgage Lenders Association's (IMLA) statements that the second phase of the "Help to Buy" scheme is causing house prices to reach fever pitch.
"A lot of people still believe in the dream of becoming home owners, but this dream has been stalled for many U.K. residents lately due to rapid increase of house prices. Some people blame the government, while the government point their fingers on low supply of houses for the price hikes. But no matter the cause, it's the home buyers that lose in the end," commented Rick Otton, the host of the upcoming 3-day seminar Zero Debt Property Cashflow Bootcamp.
"To get a shot at home ownership these days, I believe that all aspiring home buyers out there should open their minds to new and creative ways to buy houses for sale, because the traditional process would force people to bleed out their hard-earned cash during a property boom," he said.
Mr. Otton then revealed in a new interview for the Zero Debt Property Cashflow that when you make payments flexible between buyers and sellers it is possible to buy a house without applying for a new mortgage or saving up a large amount of cash to pay for a deposit.
"One of the first things that I teach my students is that it's not about the price you pay, but how they pay the price. For example, with seller finance, buyers receive some freedom and creativity on how they can complete the payments on the property. This flexibility makes it easier for the buyer to meet the asking price of the seller," according to Mr. Otton.
For more info on how to grow your property portfolio without spending a lot of cash, visit http://rickotton.co.uk/conference/ and register for Rick Otton's Zero Debt Property Cashflow Bootcamp in the U.K. on 21-23 March 2014.
About Rick Otton
Rick Otton is a property investment professional who, over the last 23 years, has introduced innovative real estate strategies to the UK, Australian and the United States. His creative 'low-risk, high-reward' approach to buying and selling houses is exemplified in his own business, We Buy Houses.
This year marks the 10 year anniversary of Mr Otton introducing his strategies to the UK, and the 5 year anniversary of his innovative 'Buy A House For A Pound' process – one that attempted to be emulated by others. His constant process of strategy refinement, and adapting to the ever-changing real estate market, continues to place him at the forefront of property investment education.
In 2012 Rick Otton published his Australian book 'How To Buy A House For A Dollar' which was named in the list of Top 10 Most Popular Finance Titles for 2013. A UK version is on the drawing board for publication in 2014.
Mr Otton freely shares insights into his non-bank-loan strategies that have allowed everyday UK men and women to beat the rental cycle and have their own homes. He coaches others on how to build profitable businesses by facilitating transactions that focus on the needs of potential buyers and motivated sellers.
Access his free downloadable Power Property Profits Pack at RickOtton.co.uk, as are the details of early bird pricing for his next UK 3-day real estate training conference in March 2014. Phone enquiries in the UK are welcome on 0207 000 1027.