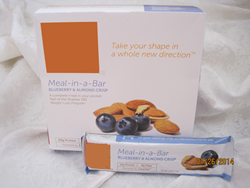 Now you can choose from a wider variety not only of delicious flavors but also types of foods such as bars, chips, and/or drinks.
Peoria, IL (PRWEB) March 15, 2014
Health and Harmony LLC announces exciting new flavors added to their weight loss program. Weight loss doesn't have to mean dieting with boring bland flavors or starving your self. Health and Harmony LLC combines delicious flavor with variety so a person can maintain their health weight by losing or even gaining healthy pounds.
Barb Lulay, owner of Health and Harmony LLC and Shaklee independent distributor says, "The weight loss program now offers more options than ever. All the products are high in leucine, an essential amino acid that may help reduce belly fat while maintaining the sexy, lean muscle."
Lulay continues, "this weight loss program not only offers a wide realm of delicious flavors but also a large variety of types of foods like bars, drinks, and even chips. Personally, my favorite is the package that offers 1 drink a day and the optimal combination of vitamins and minerals in a convenient daily pack plus the weight loss program to help everyone achieve their goals."
Now added to the weight loss meal bar line-up are white chocolate with cinnamon and blueberry crisp. Added to the delicious snack bar menu are chocolate with coconut and cherry with almonds (you can actually see the cherries and the almonds in the vitamin rich bar). As an added plus hey are even gluten free.
About the company:
Barb and Dick Lulay's customers are passionate about reducing their risk of disease. Their customer service and product expertise make shopping with http://www.HealthandHarmonyLLC.com, and http://www.AirPurifiersDirect2U.com an ideal experience. With a full line of natural products such as air purifiers, natural supplements, green cleaners, weight management and paraben free skin care, families find they can conveniently do their household shopping online with home delivery. As successful business owners, the Lulays offer a mentoring program for other aspiring entrepreneurs. They present exceptional marketing tools and a training program that shows how to generate immediate income as well as long term passive income. You can register to learn more at http://www.123MyBiz.com.