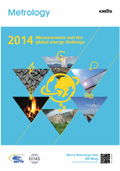 How will you Celebrate?
Boulder, Colorado (PRWEB) April 10, 2014
What is World Metrology Day?
World Metrology Day celebrates the signing of the Metre Convention by representatives of seventeen nations, an event which took place on May 20, 1875. This international agreement is also known as the "Treaty of the Metre." The Convention set the framework for global collaboration in the science of measurement and its industrial, commercial and societal application, as well as coordinating the development of the metric system. At first, the treaty was just concerned with mass and length measurement, but was revised in 1921 to cover all physical measurements. In 1960 the system of units was redefined as the International System of Units (SI). The original aim of the Metre Convention remains as important today as it was in 1875. This treaty provides the basis for a coherent measurement system worldwide. ncsli.org
This year's World Metrology Day theme is "Measurements and the Global Energy Challenge." Due to the current global energy challenge, this year's focus will be on the topic of energy. Several factors contribute to our current energy challenge. The growing energy demands of emerging nations, the need to reduce greenhouse gases, rising fuel costs and the need for secure energy supplies all lead to a requirement for a diversity of energy sources, including renewable sources. Metrologists worldwide are challenged to meet the needs of this new diversified energy environment, assuring accurate measurement throughout the field of energy.
How will you Celebrate World Metrology Day?
Businesses, laboratories and other organizations involved in measurement science have celebrated World Metrology Day in a variety of creative ways. These have included formal presentations and informal parties, as well as educational talks in schools on the history of metrology, information on base measurement units and how measurements affect everyday life. Metrologist Worldwide News Magazine would like to publish your World Metrology Day Celebration!. SEND YOUR TEXT AND PHOTOS TO lstone(at)ncsli(dot)org
Upcoming NCSL International Conference "Measurement Science and the Environment."
Join us for the NCSLI Workshop & Symposium in Orlando, Florida, from July 25-31, 2014. Conference highlights include keynote speaker Dr. Martin Milton, Director of the BIPM and 110 technical papers, including a new track, "Pressing Problems – Real Research," presented by NIST and NRC-Canada, centered on pressing societal issues and the importance of measurements in addressing them. Also included are energy sessions, which will focus on measurements associated with smart energy, infrastructure and measurements associated with power systems. There will be 25 tutorials offered, 120+ exhibitors and poster presentations in the exhibit hall, NCSLI committee meetings, great food, great lodging and serious networking with colleagues old and new. ncsli.org for complete conference information.