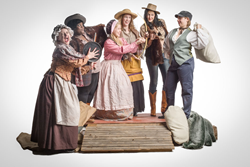 "...An enjoyable show and possibly a wish fulfilled for gaming nostalgists..." -Newcity Stage
Chicago, IL (PRWEB) March 14, 2014
The initial limited run of the original, funny, sexy, nerdy parody of the 80's video game "The Oregon Trail" is coming to an end on Friday, April 11, 2014, at Gorilla Tango Theater in Bucktown. Before that costume piece is peeled off and put away, come enjoy this burlesque take on your favorite 80's characters and music--and you may find you have "Died of Sexy"--and laughter!
Final 4 performances begin Friday, March 14, 2014 at 9:00 pm. Limited number of tickets available.
About Gorilla Tango Burlesque:
Provocative Parody for the Discerning Nerd! Celebrating funny, sexy women of all shapes and sizes in this fusion of parody and burlesque. GTB offers a variety of shows that will satisfy your inner sexy nerd-- or attraction to a sexy nerd - from Star Wars to LOTR and more! Awarded "Best of Chicago 2012" by the Chicago Reader
All performances held at: Gorilla Tango Theater, 1919 N Milwaukee Ave, Chicago, IL 60647 Phone: 773.598.4549.