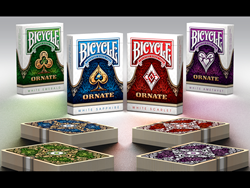 A bright and colorful set of custom Playing Cards!
New York, NY (PRWEB) March 15, 2014
The House of Playing Cards (HOPC) is proud to announce the Kickstarter release of the ORNATE Playing Cards: White Edition. They will be printed by the world famous United States Playing Card Company, makers of the Bicycle, Bee and Tally-Ho brands.
Designed by Indianapolis Graphic Artist, Randy Butterfield, the ORNATES are some of the most unique Decks in the world of modern Playing Cards. They are highlighted by beautiful fans, elaborate details throughout and detailed borders on the Back and Front of every Card.
The designs encompass two different sets of four Decks of custom Playing Cards. The four Decks include Sapphire (BLUE), Scarlet (RED), Emerald (GREEN) and Amethyst (PURPLE).
Each Deck in the Limited Bicycle Set shares a connective design that follows the curve of the historical Bicycle logo and forms a sine when all four Decks are placed side-by-side. We have 1,000 Sets of Bicycle White ORNATES available within over 700 Pledge spots. Once these spots are filled, they are sold out.
The Unbranded Set integrates unique ORNATE branded logos that give them a unique vibe of their own. They each have a connective design that is colorful and tasteful.
A beautiful custom Brick Box (holds 12 Decks of Cards) is included with every Brick Box pledge. Each Brick Box will be hand-signed by the designer, Randy Butterfield, and contain three full sets of White ORNATES. We have many Pledge Rewards that contain various combinations of Unbranded and Limited Bicycle Sets.
Pledge today to own your own set of beautiful ORNATE Playing Cards.
https://www.kickstarter.com/projects/1380523977/ornate-playing-cards-white-edition