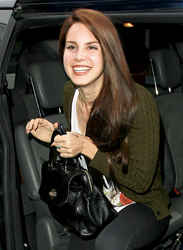 New York, NY (PRWEB) March 14, 2014
Cheap Concert Tickets announces that Lana Del Rey has added 13 new dates to her 2014 concert tour. Tickets for the additional concert dates go on sale to the general public on Friday, March 14 at 10:00 a.m. local time. The songstress behind the hit single "Video Games" is looking to have a great 2014 year. Lana Del Rey had announced a mini three date tour that would take her to some of the most intimate venues on the west coast. Three dates weren't enough for the native of New York, N.Y. and she added 13 more dates to her schedule for this spring, allowing fans around the country the chance to see her perform live.
Del Rey began writing music when she was 18 and two years later, was signed to her first record deal. She released her first album in 2010 and after buying herself out of the record deal, signed a joint deal with three labels: Interscope, Polydor and Stranger. This new deal came in July of 2011, one month after her initial release of the song, "Video Games." In August of that year, she released a music video on YouTube and now years later, her videos on the Internet sharing website have more than 60 million views collectively.
In January 2012, Del Rey released her first album with her new label, Born to Die. The album has been a worldwide hit, selling more than five million copies. In the United States, her album has been certified platinum by the Recording Industry Association of America. The album has reached the top five in numerous countries including the United States, Canada and the Netherlands. The album has reached the top of the charts in many other nations around the world including Australia, France, Germany, Ireland, United Kingdom and Switzerland.
In May, her third release is tentatively scheduled to come out to the public and this tour is being held to lend support to it. For the most part, this tour will take Del Rey to many of the most intimate venues in the United States and Canada. As part of the tour, Del Rey will also venture out to Indio, Calif. for the world famous Coachella festival. Del Rey is one of the leading acts on the first weekend of the show.
Among the latest additions to her 2014 tour include the Oakdale Theatre in Wallingford, CT; Hard Rock Live in Orlando, FL; House of Blues in Boston, MA; Red Rocks Amphitheatre in Morrison (Denver), CO; Ryman Auditorium in Nashville, TN; Aragon Ballroom in Chicago, IL; and the Bell Centre in Montreal, Quebec, Canada. Among the songs that her fans will be hoping to hear her perform live on this tour include "Born To Die," "Summertime Sadness," "Blue Jeans," "Ride," "Young and Beautiful," and her latest release, "Once Upon a Dream."
Cheap Concert Tickets advises that tickets for Lana Del Rey will sell out quickly and should be purchased as soon as possible if her fans would like to get the best seats possible. She is a talented performer that is an even better live act to watch and any true fan will want to see her on a stage in the near future.