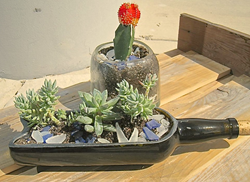 When we came up with our glass gardens, it was a fun process to decide who---besides the environment---could benefit from their success.
Las Vegas, NV (PRWEB) March 17, 2014
As Earth Month (April) approaches, artisan bottle-repurposer BluMarble announces the release of their Glass Gardens, a new product hand-cut from repurposed bottles collected from the Las Vegas strip into shapes that cradle soil and roots of baby plants. Repurposing the bottles used for these Glass Gardens spares the atmosphere from the pollution that would otherwise result from new production, while these glass gardens' plants also release oxygen and improve air quality. In addition, 20% of these gardens' proceeds goes to Create a Change Now, a 501(c)3 nonprofit that teaches youth to plant their own gardens and make healthier nutritional decisions.
"The most rewarding aspect of our business is the 'repurposing with purpose' mindset we apply to every product we create," BluMarble co-founder Jennifer Jordan said. "When we came up with our glass gardens, it was a fun process to decide who---besides the environment---could benefit from their success."
So where exactly to these bottles come from? The answer is the Las Vegas Strip and other venues throughout the Vegas metro. As nearly 40 million visitors trek through Vegas's 1,500+ bars annually, the volume of glass waste tossed daily is staggering. Caesar's Palace, for example, recycles around 2,250 tons of glass every year---or 4.5 million pounds. Excalibur, another example, outputs one ton of glass per day. So the collective carbon footprint of these bottles (if they were to be put into landfills) is huge. Left un-recycled, 4.5 million pounds of glass release enough pollutant CO2 to fill approximately 38 million exercise balls. Fortunately, many hotels and casinos on the strip recycle. Others go a step further and repurpose their bottles (many selling them to BluMarble), reducing their carbon footprint to one even smaller than that of recycling.
BluMarble's headquarters at 6280 Valley View Blvd in Las Vegas (aka the "House of Blu") is where the bottles are transformed. Founded by Jennifer Jordan and Rachel Cohen in 2013, it is where roughly 15,000 bottles per month from the Vegas strip are up-cycled into tumblers, gardens, platters, trays, vases, dishes, lighting and jewelry.
The bottles start their journey in bins outside Vegas properties such as Caesar's Palace, The Cosmopolitan, MGM Grand, Rio, Stratosphere, Hard Rock, Mandalay Bay and the downtown Las Vegas area. BluMarble pays venues the bottle deposit, then transfers bottles to the "House of Blu" to be power-washed, sanitized, dried and made over.
BluMarble's craftsmen then meticulously cut the bottles into anything from shot glasses to jewelry. BluMarble's unique cutting method uses a cold process (instead of the more common hot process), generating less air pollution and keeping toxic materials out of waste streams. Edges of each piece are carefully polished to a safe, smooth finish before being inventoried, tagged, stocked and shipped out to fill wholesale and online orders, and be sold in BluMarble's Container Park store at 707 Fremont Street, Las Vegas.
BluMarble is also featured in 300+ venues all over the country, including Caesar's Palace, MGM Grand, NapaStyle Catalog, select Marriott hotels, Health Ceramics and the restaurants of Food Network stars Guy Fieri and Michael Chiarello. And at the end of their journey, these one-of-a-kind pieces make their way to customers' dinner parties, game gatherings, accessory selections or even wedding collections, be it from BluMarble's online shelf (http://www.blumarble.com) or retail store shelf.
"At BluMarble, we revitalize something 'old' into something 'new' that's beautiful on the surface, as well as in its unique journey and process," said BluMarble co-founder Rachel Cohen. "It's art, but it's art that works to help sustain Earth's limited resources…a win-win for both planet and purchaser."
On Saturday, April 19, 2014, BluMarble hosts a special in-store event at which Las Vegas locals and tourists alike can build their own glass garden at their Container Park store (707 Fremont Street), between 10AM and 10PM PST. The glass gardens, which pay forward 20% of proceeds to Create a Change Now, can also be found online at http://www.blumarble.com/pages/shop.
###
Fact sheet: http://bit.ly/1giHJqv
Facebook: http://on.fb.me/1dNzqlq
Twitter: @ShopBluMarble
Pinterest: ShopBluMarble
Instagram: @shopBlumarble
MEDIA CONTACT: Starr Hall, International Publicist, Agency LEAD [O: 888-942-5599] [M: 805-540-9628]