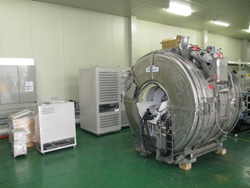 (PRWEB) March 14, 2014
SurplusGLOBAL, Inc., a global leader in the secondary semiconductor equipment market, has recently entered the used medical equipment business.
SurplusGLOBAL has recently acquired over 200 systems consisting of CT, MRI, Ultrasound, Mammography etc. and are being stored at their depot located in Osan, Korea. SurplusGlobal is planning to display about 1,000 individual systems at its depot. The global market size of used medical equipment numbers about $8 billion and the Korean market is estimated at $140 million. About 700 Korean companies deal with used medical equipment in their specific fields. In Korea, there is no company that carry a comprehensive variety of equipment.
SurplusGLOBAL is now able to offer customers a wide selection for one stop shopping. Currently, SurplusGLOBAL has over 1,500 secondary semiconductor and 200 used medical equipment in its inventory showcased at its 28,000m² of isothermal-isohumidity controlled equipment depot in Korea. SurplusGlobal has seasoned top level sales experience with and a global network, making use of its 14 years experience in secondary semiconductor equipment market. SurplusGLOBAL CEO, Bruce Kim mentioned "we have successfully provided the best solutions for the secondary semiconductor equipment. This year, we are trying to establish a 'One Stop Shopping Centre of Used Medical Equipment'. We will be participating in 7 medical exhibitions all over the world. Through the experience we have gained in the secondary semiconductor equipment market, we can now offer optimized equipment solutions in both the semiconductor and medical space."
SurplusGLOBAL will participate in KIMES which is held in COEX, Seoul, Korea from March 13th to 16th, 2014. SurplusGlobal welcomes visitors to its booth, #L104 (Lobby booth of 1st Floor(Hall B), COEX). If you have any inquiries for used medical equipment, please contact SurplusGLOBAL medical team, +82-31-615-6828 - medical(at)surplusglobal(dot)com.