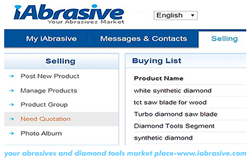 Zhengzhou, China (PRWEB) March 14, 2014
iAbrasive, China's first abrasives and diamond tools e-commerce trade platform, is excited to share a good news with its "Gold Members" that a new function is available from the website now, which gives these companies the accesses to the buying requests received from potential overseas buyers.
According to iAbrasive's introduction, this newly added function is only accessible to the "Gold Members". Usually, potential buyers will post their buying requests on iAbrasive.com if needed, including such details as product name, description, quantity, unit USD price, etc. Everyday iAbrasive will receive several buying information from overseas countries, which are sent either by authentic buyers or verified companies. iAbrasive will carefully check these information and filter out irrelated buying requests.
To assist domestic suppliers in expanding foreign trade, iAbrasive will keep its member enterprises informed of these buying information, but only to its paying members. Then, domestic sellers can quote upon the original inquiry or send e-mails to the foreign buyers. iAbrasive serves as an information and communication platform between buyers and sellers, which is free of the geographical limitations and time-saving. More buying or selling information about abrasives and diamond tools, users are welcome to link here: http://www.iabrasive.com.
Review on iAbrasive.com
Headquartered in Zhengzhou, Henan province, iAbrasive is a communication and information platform for the abrasives industry and offers domestic sellers the opportunity to present themselves to overseas buyers. Users can inform themselves of in-depth and comprehensive information on the latest developments, trends, services and products from different areas.