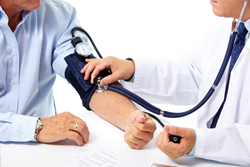 In England alone there are almost 16 million annually reported cases of high blood pressure
(PRWEB UK) 14 March 2014
In England alone there are almost 16 million annually reported cases of high blood pressure which if left untreated can cause heart attacks and stroke along with chronic liver and kidney problems. Up to 20 percent of those suffering from this condition do not receive medication, leading to over 275,000 reported heart attacks every year and more than 110,000 fatalities from cardiovascular diseases in the UK.
Breakthrough treatments in the pharmaceutical field, keyhole surgery for blocked arteries and other revolutionary treatments have helped reduce these numbers over the last decade but an increase in sedentary lifestyles and obesity contribute to this health risk.
Finding a natural, healthy solution and by increasing the immediate diagnosis and treatment of those suffering from blood pressure problems is one of the priorities of the UK health department. Although many NHS initiatives to minimise heart-related diseases are effective, continued solutions to the nation's largest health risk is still needed and many scientists continue to search for the cause and solution for controlling blood pressure.
In the Universities of Southampton and Edinburgh, scientists have been researching the occurrence of lower blood pressure readings during the summer months and specifically the role ultraviolet light plays in cardiovascular health. http://1.usa.gov/PzeKp8
Through lab experimentation on healthy young adults subjected to controlled exposure to UVA, researchers found the nitric oxides stored in the skin was transferred to the blood causing the blood vessels to expand and the pressure to drop a few points.
The actual exposure to UVA rays seemed necessary to trigger the release of nitric oxide as opposed to body temperature increase. In this experiment eighteen men and six women were exposed to UVA light for 22 minutes, allowing their blood pressure and heart rate to be monitored half way through and at the end of the session.
Blood samples were also taken to measure the level of nitric oxide metabolites with the results of this study published in the Journal of Investigative Dermatology. http://bit.ly/1koWUz2
Professor Martin Feelisch of the University of Southampton and co-author of this study admits that a larger study, involving a wider data source of older patients receiving medication for high blood pressure, along with other high risk groups, would be required for accurate conclusions on the effect of UVA rays.
He also states that if such evidence is found then the official warnings given for sun exposure should be reconsidered. Furthermore the risks of skin cancer must be considered and the levels of nitric oxide released to the bloodstream after the use of sunscreen should be evaluated.
If these studies produce positive results then the practical solution for minimising heart health problems can help increase the chances for a healthier lifestyle, especially when combined with a balance diet, regular exercise and through following other healthy habits.