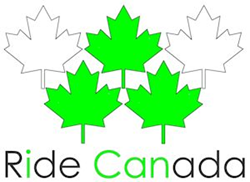 Ride Canada operates three ultra-endurance bicycle races in British Columbia and Alberta, Canada including the world's longest ultra-marathon race the Tour of BC.
Vancouver, BC (PRWEB) March 21, 2014
Perry Stone, President, C.O.O. and Founder of Ride Canada is pleased to announce that all of Ride Canada's six ultra-endurance and extreme adventure bicycle races have been added to the UMCA's (Ultra Marathon Cycling Association) racing calendar, the UltraCycling Cup and World Cup of UltraCycling Championship Series.
Ride Canada operates three ultra-endurance bicycle races in British Columbia and Alberta, Canada including the world's longest ultra-marathon race the Tour of BC, the BC Explorer and the PowerCranks Contender. In addition Ride Canada also offers extreme adventure races the Naked Cycling Series which include the Naked Challenger, the Naked Pioneer and the Naked Rider's Race. All races start August 3rd, 2014 in White Rock, British Columbia and are open to amateur and professional riders. All rider registrations are on sale until March 24th, 2014. Please visit http://www.ridecanada.ca.
With the creation of the Naked Series of race events, Ride Canada focused on four major objectives:
1) Rider Safety
2) Rider Experience
3) Reduction of Carbon Footprint and Cost of Participation
4) Challenge tailored to each individual's personal capabilities
Endurance bicycle racers often push themselves to well past their best performance and cognitive abilities in pursuit of their goals, the Naked Series of races provides three separate levels of accomplishment to allow for racers to take more time off their bicycles and still complete the race of their choice within event guidelines.
Anyone can get on their indoor trainer and ride until they drop, but what is the fun in that? The ever evolving landscapes that riders will cycle through include the Canadian Rockies, the Alaska Highway, the vineyards and lakes of the Okanagan Valley, World Heritage Sites and Banff and Jasper National Parks, the Columbia Icefields and British Columbia's spectacular and rarely experienced remote north.
Team Naked Divisions (2 & 4 person) bring a whole new level to ultra-endurance adventure racing by providing a venue that allows the support of teammates and adding a new dimension of race planning and strategy. Team Naked racing is not relay style; all riders must ride the entire distance and like the famed Tour de France teams may allocate specific riders to fulfill different roles. For more information on Team Naked Rules and strategy please visit this page.
The Naked Cycling challenges do not permit escort vehicles to support racers and therefore eliminate the use of fossil fuels. This also greatly reduces the cost of participating in an extremely demanding physical and mental event. Ride Canada believes that most people would like to climb Mt. Everest or sail across an ocean but that their dreams end where their budget does. Now Olympic or world class challenge is affordable to even those with modest or minimal budgets. (Entry fees start at $129)
The Naked Race Series offers the rider a choice of three different distances from 1,600 kilometers to 5,100 kilometers and each race offers three levels of recognition Official Finisher, Official Competitor and Elite. Again this allows more focus to be placed on rider safety and it also allows people to learn on the go as they develop their capacity and develop the perfect race strategy for their own style and goals. Ride Canada staff are available to assist riders in developing their race plan prior to their race.
Ride Canada also operates three ultra-endurance cycling events which differ from Naked Racing by not only permitting escort vehicles for cyclist but demanding them. The PowerCranks Contender, the BC Explorer and the Tour of BC are designed for those who desire to go very far very fast in very challenging conditions. The Tour of BC, the 5,300 kilometer single-stage non-stop race provides riders with a remarkable 64,000 meters of climbing to increase the challenge from mere distance.
Perry Stone, founder of Ride Canada is the only person in history to ride ultra-endurance style around Australia three times, each time setting a new record lasting over a decade and completing 155,000 kilometers on his bicycles in six years "down under." A native of British Columbia who boasts extensive experience in race organizing, event management and media relations he personally designed all race courses and is singularly qualified to spearhead the expansion of ultra-endurance cycling and extreme adventure cycling in Canada.
Ride Canada invites participants, sponsors, volunteers and journalists to visit our event websites and join us today. The racing begins August 3rd, 2014 but your preparation starts now. Ride Canada hosts numerous sites (but all are linked to each other).
Act fast our Spring Sale on rider registrations is on now until March 24th, save money on all race registrations. Contact Ride Canada to obtain your coupon code and save even more. Ooh Yeah! Let's race.
About Ride Canada
RideCanada.ca is Canada's largest private organization engaged in the development and promotion of ultra-endurance and endurance adventure cycling in Canada. Ride Canada currently operates the Tour of BC, PowerCranks Contender, BC Explorer, Naked Challenger, Naked Pioneer and the Naked Rider's Race. All events are open to amateur and professional athletes. Races travel through British Columbia and venture into Alberta's national parks and the Tour of BC and the Naked Rider's Race also cross into the Yukon for a brief stint.
Contact Information
Perry Stone
Director of Communications
Ride Canada
1-360-718-9995
p(dot)stone(at)ridecanada(dot)ca