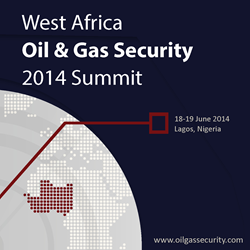 ...it's an IRN Summit.
(PRWEB UK) 17 March 2014
According to a recent Chatham House report, the volume of oil stolen in West Africa from facilities on land reaches around 100,000 barrels per day. The Nigerian Government itself has publicly stated that 400,000 barrels a day were lost in 2013 due to a combination of spills and pipeline closures as a result of theft or vandalism. These astronomical losses have resulted in a decline of as much as 20 per cent of the government's annual revenue. The problem of illegal oil bunkering has become widespread in West Africa; consequently, challenges around pipeline protection will feature heavily during the discussions at the West Africa Oil & Gas Security Summit.
Heads of Security from Shell, West African Gas Pipeline Company Limited and The Security Institute amongst many other senior decision makers will address the difficulties of staff training and effective vetting of existing employees. The panellists will also critique the key technologies used to protect West Africa's oil and gas pipeline networks, in light of the challenging task of balancing pressing security needs with the high-costs of pipeline protection.
To take part in the Summit please contact IRN +44 (0) 207 111 1615, and at info(at)irn-international(dot)com.