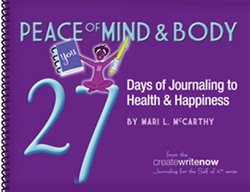 "By combining off-line journaling with on-line participation, we're able to offer guidance and coaching in a manner that best suits each individual."
Boston, MA (PRWEB) March 16, 2014
CreateWriteNow's Peace of Mind and Body - 27 Days of Journaling to Health & Happiness Challenge is scheduled to begin Tuesday, April 1st, 2014.
Developed by Mari L. McCarthy, journaling therapy specialist and founder of CreateWriteNow, the 27 Days Journaling Challenge is the company's most successful program, achieving record participation in a session held earlier this year.
The Journaling Challenge is a 27-day program that takes participants on a step-by-step journey of self-discovery, healing and growth. Through the use of daily journaling exercises and creative prompts, participants explore the 'inner self', work through difficult personal challenges, learn how to re-wire negative thinking and set personal goals to achieve better health and greater happiness.
Along with daily writing prompts, the 27 Days Journaling Challenge eWorkbook provides suggestions, tips and encouragement, while a related Facebook group provides a platform for interaction with other participants along with direct support and encouragement from Mari McCarthy herself.
Said Mari, "Our Facebook group offers a forum for discussion and support where participants can ask questions and share experiences with others to whatever extent they feel comfortable. Workbook exercises are completed in private, so there is no pressure to share personal details if participants prefer to keep to themselves."
Added Mari, "By combining off-line journaling with on-line participation, we're able to offer guidance and coaching in a manner that best suits each individual. Participants can take part in accordance with their own comfort level."
The 27 Days Journaling Challenge is being offered free of charge to participants. The related eWorkbook will need to be purchased and is available in multiple formats. An eBook is available at the CreateWriteNow store (http://store.createwritenow.com) and can also be purchased as an audio book, an email course or as a download for Kindle, iPad, NOOK and Sony Reader.
About CreateWriteNow
CreateWriteNow teaches individuals how to use the power of daily journaling to achieve self-discovery, personal transformation and perfect health. Founded by Mari McCarthy, who has used the power of daily journaling herself to overcome many of the debilitating effects of Multiple Sclerosis, the company publishes regular articles, journaling prompts, videos and eBooks and holds a number of interactive journaling challenges throughout the year.
Learn more about the 27 Days Journaling Challenge here: http://www.createwritenow.com/27-days-of-journaling-to-health--happiness-sign-up/.
Learn more at http://www.createwritenow.com.
Contact: Mari L. McCarthy
mari(at)createwritenow(dot)com
(781) 635-5175
Twitter: https://twitter.com/CreateWriteNow
Facebook: https://www.facebook.com/JournalWritingTherapy
LinkedIn: http://www.linkedin.com/company/create-write-now
Pinterest: pinterest.com/createwritenow/
YouTube: youtube.com/user/MariLMcCarthy/videos