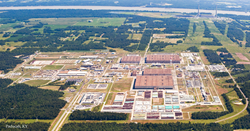 We are proud to provide qualified site personnel and oversight to support the prime contractor LATA on this highly sensitive and critical project for the DOE.
Wexford, PA (PRWEB) March 17, 2014
MHF Services (MHF), a leading provider of packaging, transportation and logistics services, recently placed three full-time technical personnel at the United States Department of Energy's Paducah Gaseous Diffusion Plant Site in Paducah, KY.
Two Field Coordinators will perform radiological surveys and waste characterization. They also will assist other on-site personnel in packaging and shipping hazardous and radioactive materials and wastes. An MHF Database and Records Coordinator will support the Field Coordinators and other team members at the site.
MHF is providing these personnel in addition to other services it provides as part of a seven-member team under the direction of prime contractor LATA Environmental Services of Kentucky, LLC. The team was awarded a five-year contract by the DOE estimated at approximately $285 million in 2010. MHF also provides packaging, including railcars, containers and liners; logistics; and rail transportation of waste material generated by decontamination, decommissioning, and remediation activities at the Paducah site.
MHF's assigned Field Coordinators for the Paducah site are Kathleen Berry and Michael Myers. Berry has about six years of experience serving in a similar capacity at a number of DOE facilities, including the Paducah site. She holds an active DOE "L" clearance, which is issued by the DOE and the NRC for civilian access relating to nuclear materials and information. Myers also has prior experience in supervising the removal and packaging of material from the Paducah site and has previously held a DOE "L" clearance . Both Field Coordinators also have 40-hour Hazardous Waste Operations and Emergency Response (Hazwoper) training and other relevant training for working with radioactive materials.
MHF's assigned Database and Records Coordinator for the site is Teresa Smith, who has nearly 30 years of experience in data processing and database management, including more than five years as a database specialist on DOE projects.
MHF is able to provide personnel to work on-site at the DOE Paducah site because the company obtained a favorable Foreign Ownership, Control or Influence (FOCI) determination from the DOE, which is required for access to government facilities where atomic or nuclear related materials are housed. MHF's Director of Employee Safety and Health/Quality Assurance, Douglas Hatch, CHP, serves as the company's Facility Security Officer and has a "Q" clearance, which is the highest security clearance issued to civilians.
"We are proud to provide qualified site personnel and oversight to support the prime contractor LATA on this highly sensitive and critical project for the DOE," said Scott Dempsey, Vice President and Director of Sales and Marketing. "MHF has nearly 20 years of experience serving on DOE projects in a variety of capacities and is pleased to continue being of service at the Paducah site."
MHF has provided packaging and transportation services for the Paducah site previously under other contracts, dating back to 1997. MHF performed the first-ever transmodal (rail-to-truck) shipment from the Paducah site in 2003.
The Paducah Gaseous Diffusion Plant has been in operation for more than 60 years. The site supported Federal Government and commercial nuclear power missions, resulting in contaminated areas on-site and in surrounding areas.
The site is transitioning from being solely an enrichment operations facility to environmental cleanup, waste management, depleted uranium conversion, deactivation and decommissioning, re-industrialization, and long-term stewardship in accordance with applicable DOE directives.
About MHF Services
MHF Services (http://www.mhfservices.com) is an integrated packaging, transportation and logistics provider offering seamless solutions for generators and shippers of radioactive, hazardous, and non-hazardous waste, materials, and byproducts. MHF provides transportation and logistics solutions to DOE contractors, and companies in the nuclear utilities, environmental services, energy, mining, metals, chemical, and petrochemical industries.
MEDIA CONTACT
For more information:
MHF Corporate Communications
724.772.9800, ext 5562