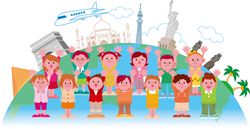 "There is a common trend in the travel industry cashing in on the peak holiday season, but at Thomas Exchange Global we offer the most competitive exchange rates during peak seasons."
London, UK (PRWEB UK) 19 March 2014
The education secretary Michael Gove, has suggested changing school holiday times to bring down the cost of family holidays. Thomas Exchange Global offers the best exchange rates for student group travel and for families going on holidays during the peak season in order to bring down the high holiday expenses.
Mr Gove, as reported in Independent on 11th March, suggested schools change their term dates enabling families to pay less during the school holiday season and "to stop holiday companies charging extra in school holidays."
Commenting on the petition which collected over 160,000 signatories on holiday price hikes Trevor Samuel, the marketing manager for Thomas Exchange Global Ltd, stated that, "There is a common trend in the travel industry cashing in on the peak holiday season, but at Thomas Exchange Global we offer the most competitive exchange rates during peak seasons."
Thomas Exchange Global also offers special exchange rates and provides special denomination needs for "student group travel" organised by schools.
"Student group travel is unique and their requirements are different. We are experienced in providing tailor made travel money solutions to schools for years at the best exchange rates available in the market," Trevor continued.
In addition to major international currencies, Thomas Exchange Global offers the best exchange rates for currencies of some popular tourist destinations such as the Moroccan Dirham, the Brazilian Real and the South African Rand. "We stock over 120 types of foreign bank notes to meet the travel money needs of any UK traveller," Trevor highlighted.
However these attractive exchange rates are sometimes not offered during the peak season "My advice is to buy currencies in advance avoiding poor rates at airports and last minute rush," concluded Trevor Samuel.
About Thomas Exchange Global
As dedicated foreign exchange specialists, Thomas Exchange Global has the professional expertise, in depth market knowledge, technological infrastructure and commitment to provide an unprecedented level of service that sets the standard in the foreign exchange industry. They are specialists in all areas of foreign exchange. They provide commission free currency as well as travellers cheques.
Thomas Exchange Global also offers International Money Transfer Service where funds can be remitted to overseas bank accounts within 1 to 2 days. With commission free service for transfers over £10,000 backed by competitive exchange rates, customers are assured of a better deal and a substantial saving compared to banks and money brokers.
Thomas Exchange Global branches are located at Strand, Victoria Street, Liverpool Street, Hammersmith, Cannon Street and Wormwood Street.
For further details visit http://www.thomasexchangeglobal.co.uk or call 020 7240 1214.