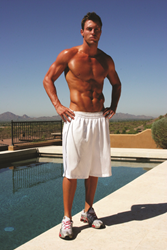 Scottsdale, AZ (PRWEB) March 17, 2014
Lucas James, Celebrity Personal Trainer, was awarded "Best Trainer" of 2014 in Arizona Foothill's Magazine's seventh annual Best of Our Valley contest.
Each year Arizona Foothill's Magazine hosts the Best of Our Valley contest to recognize top businesses, professionals and individuals across the valley, in more than 350 categories. The contest is answered with hundreds of thousands of votes that determine the Valley's favorites. The winner of each category this year will be featured in the March 2014 issue, a tell-all guide to the best people and places in the valley.
Upon winning the "Best Trainer" category, Lucas James commented on his recognition: "I'm very grateful to receive an award that's based on how my clients view the quality of the service I provide. I value each of one my clients and their fitness goals, and strive each day to help them achieve those goals; and I'm grateful that they've recognized my efforts."
Lucas James, a "Five-Star" rated personal trainer, headquartered in Scottsdale, AZ, is Arizona's only accredited Celebrity Personal Trainer. With more than 20 years of experience in fitness and wellness industry. Celebrities alike turn to him to transform their bodies and overall health. Lucas also works with some of Arizona's most notable doctors, corporate executives, entrepreneurs, affluent women and millionaires.
As a nationally known celebrity trainer, Lucas James provides his clients with an array of luxury services that offer an unparalleled experience. He specializes in weight loss, fat loss, muscle building and toning, and offers in-home, one-on-one personal training.
Lucas is Doctor Recommended and endorsed by Arizona's Best Plastic Surgeon, Dr. Marc Malek. "[Lucas'] custom meal plan and personal training is by far the best experience I've ever had with a fitness company. I would refer any of my patients to him. I now live a healthier life because of it," said Dr. Malek.
In addition to being a trainer of repute, Lucas James is also a Nutrition Expert who provides customized healthy meal plans for each of his clients. Lucas puts a heavy emphasis on nutrition and meal planning and the importance that they play in helping achieve his clients' fitness goals.
Celebrity Chef, Zipora, who has been the personal chef for Mariah Carey, Scarlett Johansson, Donovan McNabb and more, endorsed Lucas James as "Best Celebrity Trainer." Zipora commented, "Lucas James is one of the best celebrity personal trainers I've ever worked with. I have the opportunity to cook for some of Lucas's clients and together we've produced life-changing results. Lucas has a sincere passion for health and his knowledge in nutrition and meal planning are one of his great characteristics that set him a part from other trainers. I would highly recommend Lucas James to any celebrity clients because his luxury personal training services are unparalleled to any other."
For more information about Celebrity Trainer, Lucas James, please visit http://www.lucasjamespersonaltraining.com.