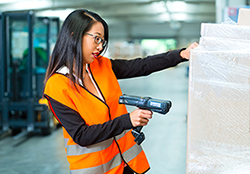 PORTSMOUTH, RI (PRWEB) March 17, 2014
A2B Tracking, provider of advanced Automatic Identification and Data Capture (AIDC) systems, software and services for identifying, marking and tracking critical assets, will be exhibiting at Supply Chain & Transportation USA, March 17-20, 2014, at the Georgia World Congress Center in Atlanta, GA, booth 3220.
A2B will be showcasing end-to-end barcode and RFID-based solutions, which are used to accurately track and trace the movement of items through today's increasingly complex supply chain. These solutions are ideal for highly-regulated industries and environments such as defense, government, research facilities, industrial manufacturing and energy where minimizing item loss, theft or duplicate orders, and ensuring item authenticity, safety and security are imperative.
Product identification experts will explain how durable A2B asset tags, RFID tags, and Auto ID hardware, plus asset tracking software and mobile devices, enable total visibility into the location, condition, and custody of critical items throughout their lifecycle. Customized automatic identification solutions help organizations optimize internal operations and meet customer needs throughout the supply chain.
A2B will be participating in the AIM Pavilion, which is sponsored by the leading association for Automatic Identification and Mobility (AIM).
About A2B Tracking
With over 3,000 tracking installations worldwide, A2B Tracking is the largest U.S. Department of Defense IUID program partner and a leader in enterprise-class solutions for identifying, marking and tracking critical assets in highly regulated environments. A2B facilitates compliance by deploying automatic identification and data capture systems seamlessly into diverse workflows.
Since 1994, A2B has lead the barcode industry into mobile computing by developing mobile tracking systems for United Parcel Service (UPS), and later through development of UC! Web™ software for IUID MIL-STD-130 compliance. Principals of A2B include original barcode technology pioneers who have driven innovations in AIT applications for 50 years.