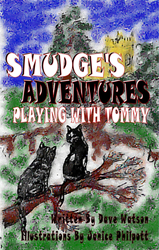 All Royalties to Group B Strep Charity
London (PRWEB UK) 18 March 2014
Following the loss of a friend's newborn baby through Group B Strep infection, popular Crime Writer Dave Watson has written a special children's book and is donating all the royalties to the Group B Strep Support charity.
Group B Streptococcus (GBS) is a common bacteria which is present in as many as 30% of adults showing no symptoms or effects. It is usually found in the intestines and can also often be found in the vagina of women. The danger is when the bacteria affects new born babies where it most commonly occurs in the first week of life causing respiratory problems and blood poisoning. GBS is also a recognised cause of miscarriage and stillbirth.
Dave Watson is a hugely popular Crime Fiction Author with his best selling Inspector Wesley Mysteries proving popular all around the world. His diversion into children's literature comes in the form of Smudge's Adventures. It is the story of Smudge the cat and his friend, Tommy, as they set off to explore their local woods and meet new friends. It's the perfect read along book or read alone book for children and the pastoral narrative is a great way for children to learn about nature. All royalties are going to support the Group B Strep Charity.
Dave was assisted by artist Janice Philpott who provided all the illustrations for the book for free.
"Group B Strep is a terrible illness," said Dave. "It's responsible for many tragic infant deaths and when it hit a friend of the family I felt moved to do what I could to help. This is the first children's book I've written and is definitely a world away from Inspector Wesley."
Mirador Publishing who publish the Inspector Wesley Murders offered to produce the book for Dave to help the project.
"Dave is one of our most prolific and successful authors," said Sarah Luddington, Mirador's Commissioning Editor. "Strep B is one of those diseases that tends to be ignored until it affects somebody one knows. As soon as Dave mentioned it to us we wanted to help."
Mirador Publishing are soon to be releasing the fourth in the Inspector Wesley Mysteries, The Loxwood Legacy.
Smudge's Adventures and the Inspector Wesley series are published by Mirador Publishing and are available in all good bookshops and online retailers both as a paperbacks and as an eBooks in all major formats.
Mirador Publishing can be contacted through their website at http://www.miradorpublishing.com.
For more information on Group B Streptococcus visit http://www.gbss.org.uk.
Dave Watson can be contacted via his website at http://www.davewatson.info.