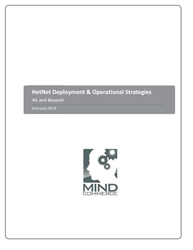 Rockville, MD (PRWEB) March 19, 2014
HetNet Deployment and Operational Strategies for 4G and Beyond
Traditional voice centric mobile networks were designed and planned back in the 20th century for a certain type of usage. The subscriber base consisted of users who were mostly making voice calls, both outdoors and indoors, with very consistent usage patterns. The birth of smart wireless devices has created a completely new set of challenges and opportunities for Mobile Network Operators (MNO). Current smart phone usage trends indicate that there will be a huge increase in global mobile user traffic. Modern day mobile networks need to handle a large number of subscribers consuming high volumes of data usage, both indoors and outdoors, and in a very unpredictable pattern. The MNO today is faced with the most import challenge, and probably the most important opportunity of their entire existence.
A Heterogeneous Network (HetNet) that is based on a combination of Cellular Small Cells, Macro Cells and Carrier Wi-Fi is expected to play a pivotal role in addressing the capacity needs for such a traffic surge in the mobile networks. In general the HetNets are perceived as important drivers for the success of 4G LTE and for the development of future 5G standards based mobile networks. Apart from vendor opinions and positioning, there is virtually no independent information available about how a mobile network operator should prepare for HetNet deployments that allow for optimal upgrade to 5G standards and technologies when they become available in future.
This research evaluates the current state of the HetNet market including analysis of vendor solutions and technologies. The report assesses HetNet deployment modes, topologies, and optimal implementation and operation strategies. The report also provides specific information needed for design and strategic planning for HetNet deployments.
To order this report:
HetNet Deployment and Operational Strategies for 4G and Beyond
Contact: Shauna
800.298.5699
customerservice(at)marketresearch(dot)com
Mind Commerce Publishing
The Mind Commerce® mission is to provide customized research, consulting, training, and writing services for the telecommunications and IT industry. Mind Commerce clients include manufacturers, developers, service providers, industry organizations, and government. Mind Commerce differentiates itself from its competition by meeting the unique needs of its clients through customized product development and service delivery.
About MarketResearch.com
MarketResearch.com is the leading provider of global market intelligence products and services. With research reports from more than 720 top consulting and advisory firms, MarketResearch.com offers instant online access to the world's most extensive database of expert insights on global industries, companies, products, and trends. Moreover, MarketResearch.com's Research Specialists have in-depth knowledge of the publishers and the various types of reports in their respective industries and are ready to provide research assistance.
Follow us on Facebook http://www.facebook.com/marketresearchdotcom
Follow us on Twitter http://www.twitter.com/marketresearch_
HetNet Deployment and Operational Strategies for 4G and Beyond - Table of Contents:
1.0 Executive Summary
2.0 Introduction
3.0 Technology Overview
4.0 Market Drivers And Business Case
5.0 Global Small Cell Market Trends & Forecasts
6.0 Vendor Solutions & Research Initiatives
7.0 Strategies For Deployment & Operations
8.0 Strategies For Driving Business & Revenue Generation
8.1 Business Opportunities
8.2 Revenue Generation And Roi Assessment
9.0 Deployment Modes
10.0 Conclusions And Recommendations
11.0 Abbreviations
12.0 Bibliography