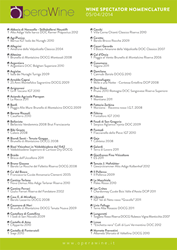 In honor of Italy winning the Oscar this year, we want to turn Opera Wine into a red carpet experience.
Verona, Italy (PRWEB) March 14, 2014
As Vinitaly sets the stage for the 48th edition of the world's largest wine event (with over 4,000 exhibitors and an anticipated 150,000 visitors from around the world), Opera Wine, Vinitaly's premier showcase, announces the program of this year's presentation, to be held Saturday April 5 in the Palazzo Gran Guardia in the heart of Verona. Opera Wine, "Finest Italian Wines: 100 Great Producers," now in its third edition, is a collaboration between Veronafiere and US-based Wine Spectator Magazine, bringing together the finest 100 Italian wines, as determined by Wine Spectator, for a single grand tasting.
This year the event - which features the producers themselves pouring their award-wining wines – will be a more intimate and exclusive affair for members of the trade and press. The program features only one grand tasting, from 4:00pm to 6:30pm, which follows a 1pm press conference and 2:15pm group picture with producers.
"In honor of Italy winning the Oscar this year – and to celebrate la grande bellezza of Italian wine - we want to turn Opera Wine into a red carpet experience," says Managing Director of Vinitaly International Stevie Kim. "We will ask attendees to vote for their favorite Opera Wine via social media, and the winner will be announced at the gala dinner that evening."
Thomas Matthews, Executive Editor of Wine Spectator, explains the philosophy behind the selection, and reveals this year's new editions: "Our group of 100 wines includes the classics - from Tuscany, Piedmont, and beyond - but we also welcome smaller wineries from lesser-known regions. Quality, of course, is always the key, but so long as vineyards respect their roots in terms of noble grapes, sustainable grape growing, and artisanal wine making, Italian wines will find enthusiastic consumers.
This year, we invited six new producers to join us at Opera Wine. Each of them exemplifies quality, while at the same time representing leadership and vision within their respective regions. Moving from north to south, they are: from Lombardy, Mamete Prevostini; from Marche, Il Pollenza; from Sardinia, Agricola Punica; from Basilicata, Tenuta del Portale; from Calabria, Odoardi, and from Puglia, Gianfranco Fino. These producers join such established stars as Antinori with Tenuta Guado al Tasso, Biondi Santi, Bruno Giacosa, Gaja, Mastroberardino, Planeta, Vietti and the Rocca di Montemassi estate of Casa Vinicola Zonin. Together, Wine Spectator and Opera Wine hope to showcase the rich panoply of Italian wines." (To view Matthews' full statement:
https://www.youtube.com/watch?v=6_rwe2tHZOM&feature=youtu.be).
About:
Wine Spectator is the world's leading authority on wine that reaches more than 3 million readers worldwide, exploring wine's role in contemporary culture and delivering expert reviews of more than 15,000 wines each year. Wine Spectator is solely responsible for the choice of producers at the event.
Veronafiere is the leading organizer of trade shows in Italy including Vinitaly (http://www.vinitaly.com), the largest wine event in the world. The 47th edition of Vinitaly counted some 148,000 visitors (+6%), of which 53.000 were international attendees (+10%) visiting from 120 countries. On 95.000 square meters, 4.200 exhibitors welcomed trade professionals, media and producers alike. The next installment of the fair will take place on 6th- 9th April 2014. The premier event to Vinitaly, OperaWine (http://www.vinitalyinternational.com) "Finest Italian Wines: 100 Great Producers", will unite international wine professionals on April 5th 2014 in the heart of Verona. Veronafiere also created Vinitaly International in 1998 to develop a global platform for the promotion of companies in the Italian wine and food sectors.
# # #