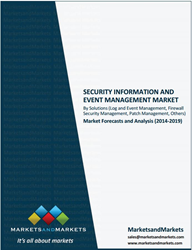 Rockville, MD (PRWEB) March 20, 2014
Security Information and Event Management Market by Solutions (Log and Event Management, Firewall Security Management, Patch Management, Others) - Market Forecasts and Analysis (2014-2019)
Security Information and Event Management (SIEM) is the umbrella term that covers SIM (Security Information Management) and SEM (Security Event Management). The SEM involves correlation and real-time monitoring of log events, notifications and console views while SIM includes analysis, storage and reporting of log event data. The SIEM market in this report is defined as the summation of SIEM solutions and services.
SIEM is a combination of Security Information Management (SIM) and Security Event Management (SEM). SIEM identifies trends and visualizes patterns in logging information and security alerts from a company's data systems. SIEM checks and monitors data flow and identifies anomalies and irregular patterns in real-time as well as over longer time periods. SIEM technology is a very critical part of an organization's security strategy, because it creates a consolidation point for various forms of security monitoring and can be utilized to spot a targeted attack in its early phases to reduce damage.
The major restraint in this market is the deployment cost and scalability of SIEM technology. There are various assumptions that we have taken into consideration for market sizing and forecasting exercise. A few of the global assumptions include political, economic, social, technological and economic factors. For instance, exchange rates, one of the economic factors, are expected to have a moderate rating of impact on this market. Therefore, dollar fluctuations are expected to not seriously affect the forecasts in the emerging Asia Pacific (APAC) regions.
To order this report:
Security Information and Event Management Market by Solutions (Log and Event Management, Firewall Security Management, Patch Management, Others) - Market Forecasts and Analysis (2014-2019)
Contact: Shauna
800.298.5699
Customerservice(at)marketresearch(dot)com
MarketsandMarkets
The MarketsandMarkets edge: Worldwide, market research reports are primarily sold for numbers, market segmentation and competitive landscape, within the business leaders.
About MarketResearch.com
MarketResearch.com is the leading provider of global market intelligence products and services. With research reports from more than 720 top consulting and advisory firms, MarketResearch.com offers instant online access to the world's most extensive database of expert insights on global industries, companies, products, and trends. Moreover, MarketResearch.com's Research Specialists have in-depth knowledge of the publishers and the various types of reports in their respective industries and are ready to provide research assistance.
Follow us on Facebook http://www.facebook.com/marketresearchdotcom.
Follow us on Twitter http://www.twitter.com/marketresearch_.
Security Information and Event Management Market by Solutions (Log and Event Management, Firewall Security Management, Patch Management, Others) - Market Forecasts and Analysis (2014-2019) - Table of Contents:
1 Introduction
2 Executive Summary
3 Market Overview
4 Security Information and Event Management: Market Size and Forecast By Solutions
5 Security Information and Event Management: Market Size and Forecast By Services
6 Security Information and Event Management: Market Size and Forecast By Users
6.1 Introduction
6.1.1 Market Size and Forecast
6.2 Small and Medium Businesses
6.2.1 Overview
6.2.2 Market Size and Forecast By Regions
6.3 Enterprises
6.3.1 Overview
6.3.2 Market Size and Forecast By Regions
7 Security Information and Event Management: Market Size and Forecast By Verticals
8 Security Information and Event Management: Market Size and Forecast By Regions
10 Company Profiles (Overview, Products & Services, Strategies & Insights, Developments and Mnm View )*
*Details on Marketsandmarkets View, Overview, Products & Services, Financials and Strategy & Analyst Insights Might Not Be Captured in Case of Unlisted Companies.
Appendix
Mergers and Acquisitions
Venture Capital Funding