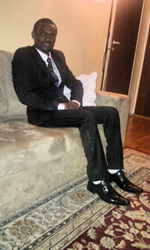 One of the Most Important and Influential Books of Recent Years
London (PRWEB UK) 19 March 2014
Part political thriller and part courtroom procedural, "The Triangle In The Dock" gives a staggering depiction of the difficulties that plague the African peace process and presents a possible solution. Professor Arrey is currently researching in the doctoral program of the UNESCO Chair of Philosophy for Peace, The University of Jaume I, Spain and is the author of several papers on peace studies and a sought after lecturer.
"The Triangle In the Dock" is his first novel and a work of extraordinary vision and political insight as it attempts to demonstrate through the medium of a grand trial that peace is possible, no matter how far opposed the protagonists at first appear.
The novel presents in a fictional situation some of the methodology proposed by Professor Arrey in tackling the intransigence so prevalent in many of the conflict situations around the world today.
His current research focuses on intractable conflicts and multi-track diplomacy.
"Simply put, intractable conflicts are stubborn, defiant and resolution-resistant conflicts that refuse getting better even when the best available techniques are applied," said Sylvester. "They're a nightmare to the world and have remained a major headache many have been grappling with. Some have persisted for decades, running across generations and exhausting the patience and knowhow of a lot of conflict experts, prompting some to conclude that they actually have no solution."
Sylvester is poised to lead a team of 12 intractable conflict researchers drawn from around the world in a soon-to-be-launched project which seeks to confront these type of conflicts head-on.
"The Triangle In The Dock" is published by Mirador Publishing and is available in all good bookshops and online retailers both as a paperback and as an eBook in all major formats.
Mirador Publishing can be contacted through their website at http://www.miradorpublishing.com.
Sylvester Arrey can be contacted via his publishers.