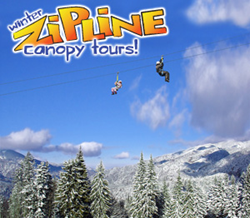 'We are honored to have been chosen for this prestigious award again...and to have been the only zipline company to ever win.' - Jeb Boyd, CEO Alpine Adventures
Lincoln, NH (PRWEB) March 17, 2014
Alpine Adventures has been selected for the second time as a winner in New Hampshire Business Review's 2014 BOB Awards, which honor the best of business in New Hampshire. Alpine Adventures was chosen as an editors choice award for the second time since 2008 and is the only Zipline company to ever win the award.
With 3,900 ballots cast for the 2014 Awards, the BOBs continue to be considered a standard of excellence in New Hampshire's business community.
"We are honored to have been chosen for this prestigious award again," said Jeb Boyd, CEO of Alpine Adventures and Whales Tale Waterpark, "It is especially satisfying considering there is no zipline or adventure category and the editors have gone out of their way twice to acknowledge the hard work and dedication of our staff. Their commitment to delivering a world class adventure experience for every guest is the reason for this award."
Alpine Adventures merged with Whales Tale Waterpark, another award winning White Mountains attraction, in late 2013 to create one of the most exciting and unique family destinations in the northeast. New "Zip & Dip" and adventure packages featuring waterpark tickets along with ziplining, off-road tours and more will be offered for the 2014 season allowing guests and families more flexibility to create a full day adventure experience.
Located in Lincoln/Woodstock, the basecamp of the White Mountains, the properties are surrounded by spectacular scenery, plentiful lodging and dining options and a host of other attractions, making this one of the top year round destinations in the state.
Alpine Adventures is the first, largest and most award winning zipline & adventure destination in New England, with 3 separate zipline courses, off-road tours, aerial adventure park & the BigAirBag Stuntzone. They continue to lead the way in innovative tour development in the outdoor adventure industry and commitment to customer service and safety.
http://www.alpinezipline.com (603)745-9911 info(at)alpinezipline(dot)com