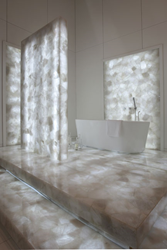 Zicana's Design Competition is custom tailored for architects and designers to showcase their most creative work!
Westbury, NY (PRWEB) March 20, 2014
Zicana is a luxury goods purveyor that fashions and sells a vast array of custom gemstone surfaces, original handcrafted accessories and home accented items headquartered in Long Island, NY. Zicana also owns and operates Elegante Custom Stone Boutique by Zicana. Established in 2003, Elegante is a leading manufacturer and fabricator of a variety of natural and engineered stone products. Zicana is honored to be featured on the new television show Design Recipes!
Design Recipes TV brings together some of the best known and most prestigious brands in real estate, renovation and design for an energized, informative series to air the last Thursday of every month at 8:45 a.m. on the top rated PIX 11 Morning News (WPIX-TV in New York City). Celebrity Interior Designer Cathy Hobbs, a 5-time Emmy Award Winning journalist and reality tv star from HGTV Design Star Season 6 serves as host. Viewers will LOVE tuning in for design and real estate insight from experts such as Ilan Bracha and Lawrence Lee (The Bracha Group/Keller Williams NYC), Andrew Harrington (Manhattan Renovations), Francesco Marasco (Zicana), and Brian Scott Cohen (Wells Fargo Home Mortgage).
View this video for a quick tour into the world of Zicana.
Zicana is proud to announce their Design Competition in conjunction with the television show Design Recipes! The Design Competition, tailored specifically for architects and designers, will give applicants the opportunity to design a custom project of their choice incorporating Zicana's new gemstone collection. Creativity is a must, allowing applicants to be free to design vanities, kitchen & bathroom surfaces, countertops, floors, walls, bars or any other custom piece they desire. After all designs are submitted, the best drawing will be chosen and the winner will be marketed through social media channels as well as win a guest appearance on Design Recipes to feature the creativity of their design!
Enter the Design Competition here.
Check out the Design Recipes videos and information here.
Be sure to contact Zicana with all of your custom stone projects. Offering multiple stone options to fulfill your luxury remodeling requirements, Zicana lets you choose from different types of agate, quartz, granite, onyx, marble, amethyst, and many other types of natural, engineered, and semi-precious stone. Zicana custom makes vanities, kitchen & bathroom surfaces, work surfaces, countertops, fireplaces, floors, wall features, furniture, home decor items, jewelry and more!