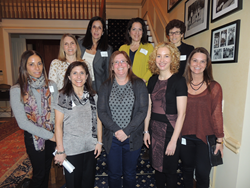 New York, NY (PRWEB) March 14, 2014
On Tuesday, March 4, DOROT Westchester hosted a presentation entitled "What Do We Owe Our Parents," based on a national survey by More Magazine and article by Jennifer Braunschweiger. The event spurred conversation based on offerings from the survey, which explored the limits of love, duty and moral obligation in caring for parents.
DOROT offers programs and services that help older adults age in place, remaining in their own homes for as long as possible with the assistance of volunteers. Since 2004, DOROT's Westchester programs have effectively combated social isolation among older adults in the county with food deliveries, weekly volunteer visits, intergenerational Shabbat celebrations, youth programs, and teleconference classes and support groups.
DOROT was privileged to offer this insightful presentation and discussion to the Westchester community, as our intergenerational mission offers a lifeline of support for older adults, their caregivers and volunteers.