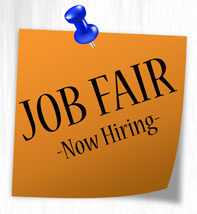 Gainesville, GA (PRWEB) March 15, 2014
MAU Workforce Solutions will be hiring Machine Operators in Gainesville, GA on Tuesday, March 18th. The Job Fair will take place from 9AM-Noon at the Georgia Department of Labor located at 2756 Atlanta Hwy, Gainesville, GA 30504.
Applicants are encouraged to apply online prior to attending the job fair; however, walk-ins are welcome. Applicants must also submit to background check and drug screen.
Requirements/Job Description:
GED required
previous manufacturing experience required
candidates must be willing to work rotating shifts and overtime if needed
Tuesday: March 18, 2014
Georgia Department of Labor
2756 Atlanta Hwy
Gainesville, GA 30504
MAU offers optional benefits to associates including medical, prescription, dental, vision, 401K, and life insurance. MAU Workforce Solutions provides equal employment opportunities for all applicants, regardless of race, religion, color, sex, or national origin, age, veteran status, disability or any other characteristic protected by law. MAU is an Equal Opportunity Employer.
MAU is a family-owned, Native American, certified minority business enterprise that has grown over the years to become one of the nation's top diversity-owned temporary staffing, recruiting, and outsourcing companies. With recruiting partners in six continents and an international customer base, we have extensive industry knowledge on top of the ability to analyze, design and implement solutions that match the needs our clients.