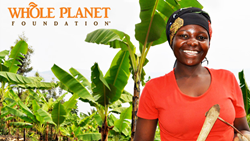 Empowering 330,000 plus women worldwide...
Rhinebeck, NY (PRWEB) March 14, 2014
The Whole Planet Foundation was born in 2012 out of Whole Foods Market's desire to give something back to those who have helped the company succeed, Whole Food employees, while also focusing on the persistent problem of world poverty and hunger. The foundation was formed with the entrepreneurial spirit of Whole Foods Market in partnership with Professor Muhammad Yunus and Grameen Bank, co-recipients of the 2006 Nobel Peace Prize.
The Foundation's mission plays close to the heart and company objective of Topical BioMedics, Inc., recently certified as a B Corporation. The market is a purpose-driven initiative that creates benefit for shareholders, employees, the global community and the environment.
Says Chief of Research and Formulator of Topricin's Pain Relief and Healing technology Lou Paradise: "We are proud to donate our Topricin® Natural Pain Relief & Healing products to the Whole Planet Foundation's Market Bazaar – offering pain relief and healing to Whole Food employees while concurrently empowering 330,000 plus women worldwide to change their own lives by starting or expanding home-based businesses. It's a win-win-win for all!"
As a former Marine, Mr. Paradise advocates for the nation's disabled and wounded veterans as well as many organizations that support the elderly, women and children. Mr. Paradise also praises entrepreneurship and invention to ignite worldwide change.
"Sometimes you discover stuff, and sometimes stuff discovers you," Mr. Paradise says when describing his invention of Topricin and his calling to share the technology that restored his hope in life with the global community. "As is our responsibility as a Certified B Corporation, Topical BioMedics, Inc., values agents of change and The Whole Foods Market and its Planet Foundation is certainly an example of a company that is using the power of business as a force for good."
The Whole Foods Market Bazaar's operation set-up is simple. Whole Foods Market employees shop the store and leave a donation for the items desired. Whole Foods Market covers operating expenses and 100% of all the money raised at the market goes directly to support the foundation's mission to end world poverty.
The current impact of the foundation is admiral. Since the foundation's founding:

Number of Countries Supporting: 59
Funds Committed: $48,677,697
Repayment Rate: 97%
People Supported: 2,425,000
Of the many lives the foundation has helped transform, below is one woman's success story:
"My name is Azaratu. I am a thirty-eight years old woman engaged in shea butter processing in the Karaga District of the Northern Region. I am married with eight children all of whom attend school and are registered under the National Health Insurance Scheme. I joined Simli Pong credit association located in 2011 and has been receiving loan from WPF through Grameen Ghana. I took an initial loan of GHC100.00 ($40) which helped me to increase my production to 60 bowls (120kg) of shea nut per week. Now we are in the seventh cycle and my current loan is GHC500.00 ($200). With this amount I am now processing as much as 10 bags (1,600kg) of shea nut into butter within a week. I am also able to buy the Shea nut in bags during the picking period and store for future production during the off-picking period when the price is high. My income has also increased from GHC20 ($8.30) in a week when I started with my own resources to GHC 250 ($100) a week currently. My business has grown 10 folds in three years and people are amazed how my life has changed. I can handle all my children's financial needs when my husband has no money."
The Whole Planet Foundation and Topical BioMedics, Inc.,: In service, helping to restore hope and quality of life.
About Topical BioMedics, Inc.:
Celebrating 20 years in business and certified as a B Corporation in 2014, Topical BioMedics, Inc. is the research and development leader in topical patented natural biomedicines for pain relief. The company's flagship product, Topricin® Pain Relief and Healing Cream, was introduced in 1994 and is now a leading natural therapeutic brand. A combination homeopathic formula, Topricin was awarded a patent for the treatment of pain associated with fibromyalgia and neuropathy. Other formulas in the product line include Topricin Foot Therapy Cream and Topricin for Children (5% of the sales are donated to a pediatric cancer foundation).
All Topricin products are made in the U.S.A., formulated with approved medicines as found in the HPUS (Homeopathic Pharmacopoeia of the United States) and are in compliance with federal rules for homeopathic over-the-counter medicines. The products contain: no parabens, petroleum or harsh chemicals, are odorless, greaseless and non-irritating, and produce no known side effects, making them ideal and safe for the entire family.
Topricin is available in independent pharmacies, natural food and co-op stores nationwide, including Whole Foods, Sprouts, The Vitamin Shoppe, Fred Meyer, Wegmans, CVS (Foot Care Section), Walgreens (Diabetic Section), and other fine retailers, as well as directly from the company. http://www.topricin.com
About The Whole Planet Foundation:
The Whole Planet Foundation's mission is poverty alleviation through microcredit in communities around the world that supply Whole Foods Market stores with products.
Whole Planet Foundation is a private, nonprofit organization established by Whole Foods Market. We provide grants to microfinance institutions in Asia, Africa, the Americas and the Middle East, who in turn develop and offer microenterprise loan programs, training and other financial services to the self-employed poor. https://www.wholeplanetfoundation.org/