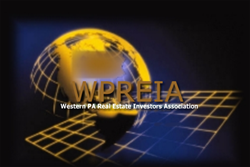 "everything that we do here is designed to help our members make money, that's what it's all about."
Pittsburgh, Pennsylvania (PRWEB) March 17, 2014
On Tuesday March 18, 2014, the Pittsburgh Real Estate Investors Association will be holding their monthly meeting at the Doubletree Hotel in Greentree, PA. The educational based meeting will last from 7 P.M. till 9 P.M.
This month's meeting will feature an early bird class starting at 6:30 with local real estate investor and best-selling author Brian Snyder. As well as a presentation from Legal Shield on a cost effective way to assemble a strong legal team; a class by local property management firm, One Source, on the proper way to deal with a frozen pipe; and a class by REIA member Brian fine on using social media to make money.
These featured classes will be supplemented by reoccurring classes on legal issues in real estate taught by Attorney Rob Xides, an accounting minute by CPA Marty Schwartz, a segment with houses for sale, and a parade of the clubs vendors. The vendor parade is a short showcase of local businesses which offer special deals to members of the club.
There will also be a segment dedicated to the growing list of national merchants who offer discounts to club members. This list already includes names like Home Depot, Lowes, Sears Commercial, Sherwin Williams, Build-a-sign, and more than twenty others.
In the special announcement segment, club President and nationally known real estate mentor Josh Caldwell will be announcing a new program where members can have their mortgages reviewed by an attorney for free. This program is part of a partnership with a California based legal team which specializes in mortgage issues. The CA group has historically found flaws in 85% of the mortgages which they have reviewed resulting in loan forgiveness or loan modification in many cases. This is an exciting new program. With this in place, subject-too investors can create profit spreads out of thin air.
The continuing education segment of the meeting will feature two special deals. The first is a special offer from last month's keynote speaker Scott Meyers. Scott is the nation's leading expert on self-storage investing. Also of note is the new course by Pittsburgh REIA member and FGCREIA President Jon Iannotti. Jon's http:// REACT course is a whole new way to buy property with no money down. His course also includes details on how to sell property and how to automate a real estate business.
Real estate investors in Western PA, Eastern Ohio, and Northern West Virginia are encouraged to attend. As always first time guests get in free. Membership in the club is encouraged but not required. Investors and potential investors who wish to learn more about how to make money in real estate should try out a meeting. Anyone who is serious about learning how to make money should join hundreds of other local investors. Cost of an annual membership in the real estate investors club is only $109. The discount program, social networking events, educational forums, and sub-groups are all included in this price. The only requirement for membership is a good attitude and a desire to learn how to make money. Applications for the club can be picked up at the meeting or downloaded from the club's website. As an added bonus the club offers a free newsletter to anyone who desires knowledge. According to club President Josh Caldwell "everything that we do here is designed to help our members make money, that's what it's all about." The Pittsburgh REIA is one of the fastest growing investor clubs in America.
For more information visit http://PittsburghREIA.com of call 412 761 7342.