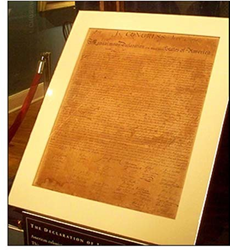 Lebanon, Pa (PRWEB) March 18, 2014
Known as the Anastatic Facsimilie of the Declaration of Independence, it was discovered by rare document collector Tom Lingenfelter of Heritage Collectors' Society, Inc. of Doylestown and is the truest copy of the 1776 engrossed (handwritten) Declaration of Independence. A rarity in its own right, the Anastatic Declaration is the result of a wet transfer process from the original and sheds some light on how the Declaration obtained its current status as a faded remnant of history.
"Those who go to see the engrossed copy at the National Archives are shocked that it is barely visible. Its pale brown text on off‐white parchment is impossible to read. The Anastatic Declaration is a facsimile from a plate produced by a chemical transfer process that nearly destroyed the original engrossed Declaration," Lingenfelter states on a webpage dedicated to the document.
Clearer than the original document on display at The National Archives, this copy is readable by the naked eye and is rarely seen in public. The only other known copy is housed in archival storage at Independence National Historical Park in Philadelphia.
The event will be sponsored by the Russ Diamond for State Representative campaign as a fundraiser, where Lingenfelter will give a presentation about the Anastatic Declaration and Diamond will discuss his plan for eliminating property taxes in Pennsylvania. General Admission for the public is $50.00 per person.
Prior to the fundraiser event, the Diamond campaign is inviting media outlets to a "politics‐free" VIP hour from 5:00 ‐ 6:00 p.m. During this hour, the document will be available for photographs and filming, and Lingenfelter will be on hand for interviews regarding his discovery of the Anastatic Declaration and the research he conducted to reveal its significance in American history.
###