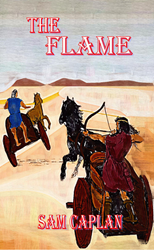 Three novels in eighteen months at age 94
London (PRWEB UK) 20 March 2014
Proving that age is no barrier to starting a new career, 94 year old Sam Caplan from South Africa has just launched a new career as a novelist. His Biblical Fiction trilogy has recently been published by Mirador Publishing and looks set to cause quite a furor with their explicit content.
Sam volunteered for military service in 1940 and shortly after found himself in Tobruk where in 1942 he was captured by General Rommel's forces. After a year in a prison camp he escaped and travelled 600 kilometres to rejoin the allied forces. After the war and several careers later he finally retired at the age of 80 to embark on in his next project as a novelist.
Now he has just published the third novel in his trilogy of Biblical Fiction which he completed in only eighteen months.
Mirador Publishing secured the rights to the trilogy last year and with the final one, The Flame, just arriving on the bookshelves Caplan still refuses to rest.
"I write every day, averaging about 6 hours," said Sam. "In addition to two other novels, which I have prepared for release, I now devote myself to my memoirs, 'My Long Life', which could be a blockbuster as I believe I have attained the zenith of my novel writing."
The Biblical novels are an inspired reimagining of some of the most tumultuous events from the Old Testament and once more reinforce Mirador's position as a publisher prepared to take chances with new authors.
"We feel privileged to be working with Sam," said Sarah Luddington, Mirador's Commissioning Editor. "Although he puts us all in the shade with his phenomenal work rate!"
The three novels, 'A Dashing After The Wind', 'Ahab and Jezebel' and 'The Flame' are certainly not Sunday School tales and should be approached with care. Caplan has not been afraid to tackle the violence and sexual elements of these tales as he presents the period as a time of harsh conditions, harsh enemies and even harsher rulers.
The trilogy is published by Mirador Publishing and is available in all good bookshops and online retailers both as a paperback and as an eBook in all major formats.
Mirador Publishing can be contacted through their website at http://www.miradorpublishing.com
Sam Caplan can be contacted via his publisher