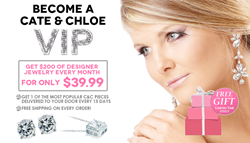 You and your company are such a blessing to me. These little surprises are so much fun for me each month. I really look forward to them and the quality is amazing.
(PRWEB) April 04, 2014
Cate & Chloe's new VIP Jewelry Box Program has more value, benefits, and perks to offer than nearly any subscription program out there. With the most beautiful jewelry, the unbelievably great prices, and the exceptional VIP customer support, this only begins to describe the plethora of sign-up incentives!
Cate & Chloe's new VIP Membership offers members over $200 worth of high-end fashion jewelry for only $39.99 a month plus free shipping! While this already sounds like an unbeatable bargain, this merely scratches the surface of what the subscription has in store. If you love beautiful jewelry, top of the line customer service, random bonus gifts, discounts - all tailored to your own personal preferences, we encourage you to read on!
So what exactly does this subscription entail? All members receive a complimentary gift upon signing up for the program. Following this, they will receive 2 pieces of jewelry per month, each hand-selected by our Cate & Chloe fashion experts. One of these monthly gifts will be a pre-release item exclusive only to our members! If a member isn't in love with any gift they may receive, we offer free exchanges. Furthermore, while 2 gifts a month is our standard, we love to keep our members excited and continuously surprised and so we do occasionally toss in some extra "bonus" items!
On top of all of the stunning jewelry, the discounts that you receive as a member are seemingly endless. To start, each member automatically receives a 20% discount on ALL of their future Cate & Chloe purchases upon sign up - including sale items! Furthermore, members also enjoy free shipping on all of their packages (including exchanges). It doesn't end there! For anyone who is willing to pay more upfront and less overall - they have options for that too! New sign-ups can select either of the following: 3 months prepaid with 10% off, 6 months prepaid with 15% off, or 1 year prepaid with 20% off. And lastly, while Cate & Chloe is always trying to spread the word about their awesome program, they also offer discounts for referrals! If a new member is referred to our program by an existing member, BOTH parties will receive a 10% discount on all of their charges. A member is able to refer up to 5 friends resulting in a 50% discount for them. That is a tough deal to beat!
Still not convinced? Sometimes it's the little things that really put the icing on the cake. Cate & Chloe VIP members are continuously impressed with the top of the line customer service that they receive. All VIP inquiries are guaranteed a response within the hour of being sent. They always go the extra mile for their beloved VIPs and to be more specific, they are always happy to go above and beyond to meet any of their customers special requests! Whether it's overnighting a friend's birthday package, making notes of jewelry preferences for each member, or even sending a specifically requested piece in their next monthly package - Cate & Chloe is the best in making sure customers are always happy! But enough talk, see what these members' are saying:
"Every time I get my package in the mail it feels like my birthday! The beautiful packaging and the hand-written sentiments make it feel so personal!"
"You and your company are such a blessing to me. These little surprises are so much fun for me each month. I really look forward to them and the quality is amazing. "
"I am so very happy to be part of your program. I had a rough week and when I came home to my package from you in the mail I just lit up!"
"You guys have been more than accommodating and so helpful in everything I have asked about. I have never dealt with a company that has provided such tremendous service and honored so many special requests for me! I will be recommending you to all of my friends and family!"
One last perk that was missed is the all important VIP Member Profile Quiz. This allows Cate & Chloe to get a better grasp of exactly what each member hopes to receive in their bi monthly packages. Here, members can specify what type of jewelry they hope for (earrings, necklaces, bracelets, ring, etc.). In addition, they encourage even more specific preferences such as the color of metal they prefer, chain lengths, ring sizes, simple styles versus glam, and so forth. While Cate & Chloe is always more than happy to facilitate free VIP exchanges as mentioned above, their hope is that this will eliminate any inconvenience for members' and make sure that they are always as happy as can be with each Cate & Chloe package that is sent their way. Try it out for yourself and see what everyone is raving about today!